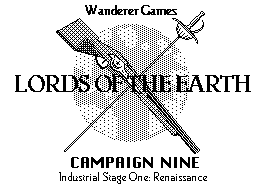 Turn One Hundred-Twenty-Four
1562 Anno Domini
Al Hajj 1023
522 Nian Huang
Zuni Reckoning 178

Next Turn's Orders Due by Monday April 28th 1997

---

ANNOUNCEMENTS

Thad Plate Home Page: Type in
http://www.inficad.com/~plate
and you'll arrive to my own Webpage. There I have posted the latest Newsfaxes from my games and will also post maps and info for the newly starting Lords 12. My site will be the first to link the latest newsfaxes and will act as backup in case the Gumby site is down. Check it out.
Diplomacy Results: (ne)=no effect.
Cultivated Regions: All cultivated regions can be colonized to 2 Gpv. If you can somehow get a region intensely cultivated, you can then colonize it to 3 Gpv.

Lords Nine Unit Conversion
Each point of cavalry and infantry represents 500 fighting men. A warship or transport point = 1 ship with 500 men aboard each ship. A siege point = 5 sieges towers or catapults or 500 sappers. An artillery point = 5 field pieces each supported by 100 men. A field fort point = 1 tower manned by 500 men each. A wall point = 10 feet of ramparts and about 500 guards. A siege artillery point = 1 mortar (boulders included).
Lords Nine Turn Costs
OldWorld NewWorld
eMail Per Turn $3.50base,25¢@BL $3.50base,25¢@BL
Local Per Turn $4.00base,25¢@BL $4.00base,25¢@BL
Mailed Per Turn $4.50base,25¢@BL $4.50base,25¢@BL
8x11 Mapset $3.00 $2.00
11x17 Mapset $6.00 $4.00
Color Map $3.00 $3.00
Warning: There will be a $5.00 charge for each returned check. I do not accept post-dated checks.

Contacting The Gamemaster
Send Your Orders to:
Lords 9H c/o Thad Plate
5333 East Thomas Road #215
Phoenix, AZ 85018
Call Me at:
(602) 952-8929. Even when those beeping sounds I may still be home, don't hang up.
Fax: (602) 952-8075
eMail: plate@inficad.com
I pick up turns every Monday at the Game Depot at 708 S. Forest Avenue in Tempe, AZ

Rules Used in Lords Nine
This campaign uses the 1994 5th Edition Rulebook and the 1994 Renaissance Expansion v1.4. Any other rules will be noted in this newsletter.

Ordering the Rulebooks: Send check or money order payable to:
Thomas Harlan
4858 East 2nd Street
Tucson, AZ 85711-1207.
The Prices are:
5th Edition Rulebook: $13.00
Renaissance Expansion: $4.00
This includes delivery cost, domestic USA. If you are overseas add $2.00

LORDS OF THE EARTH WEB PAGE
The Wanderer Games Home Page can be found at:
http: //gumby.spa.umn.edu/cscdir/lotedir
---

THE WANDERER GAMES
PLAY BY MAIL EMPIRE
Lords of the Earth Campaign One: Thomas Harlan, 4858 East 2nd Street, Tucson, AZ 85711-1207. (602)323-8570 7pm-10pm. eMail: tharlan@tophat.pima.gov. Turn 187
Lords Two: 13224 Highview Drive, Burnsville, MN 55337. (612) 890-5878. Turn 41.
Lords Six: Kerry Harrison at kerry@io.com. This an eMail New World game starting at 900 AD. Turn 2
Lords Seven, The Dark Ages: Eddie Hartwell. 11517 23rd Ave, Burnsville, MN 55337. (612) 431-1858. Turn #10.
Lords Eight: Neil Stokes. 1674 Juliet Avenue, St.Paul, MN 55105. (612)698-9270 or nstokes@iceworld.org Turn #14. Set at around 300 BC. Open: Han(14), Numidia(20), Karnata(27), Buddha(30), Galatia(38), Iazygia(42).
PLATE GAMES:
Thad Plate, 5333 East Thomas Road #215, Phoenix, AZ 85018. (602)952-8929. Fax Number (602)952-8075. eMail: plate@inficad.com
Turns cost $4.00 + 25¢ per BL. 50¢ break for eMail; 50¢ added for US Mail.
Lords Nine: Turn 124. Open: Basari, Aseb, Kwakiutl
Lords Ten: Turn 83. Open: Mapuche, Leopard
Lords Eleven: Turn 43. Open: Jhelum, Yampi, Tupi
Lords Twelve: 1000 AD historical start. I'm working on Turn #1 right now.
Lords Seventeen: Bob Gurley 19502 Leaning Timbers. Humble, TX 77346. (713) 852-8866 or yuppyputze@aol.com. Turns are $3.00. Turn 5.
Lords Nineteen: James Chaney. 7316 North Black Canyon #3, Phoneix, AZ 85051. (602) 864-1175. Atacr@aol.com. Turn 6
Lords Twenty (eLords): This game is run strictly off the internet. Eddie Efsic at eddief6@ix.netcom.com. At turn 13

---

THE GLOBAL WAR (1532-?)
Fatimid, Atarikalimid Imam, Japan, Umma, Himrad, Mbundu, STIS
versus
Ghaznavid, Huang, Baghdad, Anatolikon
Taking a Break: Aseb, Denmark, Dutec, Culdis, Popul Italy, Basar, Russia, Siam, Hurszia
Neutral: Hansa, Andalusia, Armenia, Shmalid, Mataram, Tibet, Ponape, the entire New World
Pain in the Butt: New Itiopya


GLOBAL WAR TIMELINE
1500
Later Huang Diverts Silk Road to Russia.
1505
Benghazi Arabs complete their conquest of Italy.
Huang Chinese troops defeat Danes at Varshnask.
1507-1528
Druze begins their battles against Basra, Fatimids.
1508-9
SUDANESE UPRISING. Atarikalimi Sudanese razid Sanhaja, Andalusian shorelines. Daran Sudanese and Fatimid armies topple the Benghazi regime.
Russians capture Moldavia
1508
Afghan armies begin their conquest of Arabian Felix.
1510
Around this time, the Afghan and Chinese Empires sign an alliance treaty. The Asian Prosperity Alliance would later inlcude the Japanese, the Russians and the Cambodians.
1510's
Danes raid Baltic Sea coast
1512
Egyptian Spice Company (ESC) opens.
1513
Ivory-Spear founds the Wiyali of Lubnan at Brana.
Afghan armies complete their conquest of Arabian Felix.
1515
Fatimite Egypt convets to Atarikalami Islam
The Atarikalami High Priest, Khomeni XIV, calls a jihad against the Copts and Sunni Muslims.
Abyssinians attack Daran armies but are then repulsed near Cairo when they went after the Fatimites.
1516
Jihadin begin their assault against the Abyssinians.
1519
The East African Trading Coalition (STIS) begins its business.
1520's
Fatimite and Atarikalami navies raid Maghreb and Italian coasts.
Italian nationals revolt from the Arabs.
1524
Benghazi navy destroyed by Atarikalamis.
Under pressure from constant raids, the Sanhaja Sharifat collapses.
Late 1520's and early 1530's
Fatimite navies slave raid Coptic Red Sea coast.
1526
Local Depression is caused by a collapse of the Benghazi banking system.
1528
Druze destroyed by Fatimites. Palmyra's population is enslaved and moved to Darfur.
1531-4
Popular Uprising in Italy drives out the last of the Arabs.
1531
Danish Kaiser linked to the Atarikalami Muslims.
1532
Russians invade Pomerania, start of the GLOBAL WAR
1533
Daran and Fatimite armies conquer Nubia and enslave the whole region.
Lombard pirates sack two Danish cities on the British Isles.
1533-38
Chinese and Afghan armies conquer Sarkhagistan.
1535-38
Afghan armies conquer much of Basran Persia.
Hurszians attack the Po Valley while the Populs drive the Lombards from Italy.
STIS and Atarikalamis shut down ESC offices in Egypt. Spice Company is split into two: Maghreb (SBM) and Arabian (SBA).
1536
Russians defeat Dutch and occupy Holstein.
1536-38
Danish armies counterattack, liberating Pomerania and pacifying Prussia.
1537
Mbundu conquers Nia Nia from the Abyssinians.
1538
The Global War escalates to become truly global: Afghan armies clash with Fatimites near Mecca. Afghan navy patrols the Red Sea. Chinese armies reinforce Russia.
1539
Great unrest against the Afghan Empire in Persia and Arabia. Atarikalamite Yemen founded.
1540
Danish counterattack destroyed, Russian occupy entire Baltic Coast and isolate Nydania.
Armenia attacks Lebanon.
1542
Chinese navy sacks Parq'rh.
MILLENIUM JIHAD. Atarikalimites come out in force to fight the Chinese and Afghans.
Afghan Empire creates Baghdad satrapy.
1544
Fatimite armies defeat Afghan and Chinese armies in Jordan (Azraq Ruins)
Ronin Cossacks conquer Nydania.
1545
Dutch armies defeat Russians at Kassubia.
Danish lands troops in Ilmen and begin bombardment of Novgorod.
Popul force chase the Hurszians from Italy.
1546
Culdi Church calls a Crusade against the Russians.
Chinese destroy the Sarkhagi remnant kingdom at Kohul.
1547
Danes defeat Chinese & Russian army at Ilmen. Novgorod counter-bombards Danish battery.
China and Japan fall out. Japan switch sides.
1548
Andalus enters war attacking Holland at Languedoc along with the independent Chinese navy.
Yoruban forces attack Andalus and capture Seville. The Andalus fall into civil war.
Mbundu defeats southern Abyssinian army and advance north. The Darans advance in the north of Abyssinia.
Cambodian garrison at Yemen wiped out by Fatimite Jihad.
Chinese conquer Japanese possession on the continent and keep the Japanese navy from unloading troops at Loyang.
1549
Chagatai attack Danish at Ilmen and are destroyed.
Around this time, the Fatimite Jihad forces occupy Afghan Arabia.
1550
Atarikalamid forces (the Basari) are repulsed at Abbis.
Arabian Spice Company (SBA) is destroyed by the Fatimites at Al Hadd.
1551
Abyssinian King Zanditu II assassinated
After a civil war, the Andalus make peace with the Atarikalimites.
About this time the Danish Crusade attack the Baltic cities. Culdi and Orthodox Christianity are polarized.
A cease-fire is called between the Afghans and their Baghdad colony and the Fatimids.
1552
Rogue Andal army destroyed by Italians and Dutch.
China defeats Japanese navy at Eching. Japanese army driven from Manchuria.
1554
Danes quit passive siege; their assault against Novgorod fails.
Huang Western Navy destroyed by the Atarikalimite fleet.
1555
Atarikalimite fleet raids the southern coast of Russia.
Russian and Chinese armies defeat Danes at Ilmen (Baketch) and clears them out. Ronin are wiped out.
Abyssinians evacuate the Amharan Plateau. They flee to the Afghan port of Mansura.
Chinese sinks the entire Japanese navy near Sarchou.
1556
Danes and Russians effectively stop fighting.
1557
Atarikalimite Fleet start raiding Anatolikon coast. The Greeks dragged into the war against the Imam.
1558
Abyssinian refugees settle at Samarkhand and break direct Chinese communication with Russia.
Chinese navy bombard Tokyo.
1559
Chinese conquer Korea from Japan.
1560
A cease fire negotiated between the Dutch and Danes and the Russians. War resumes between the Afghans and the Atarikalimites.
Afghan Sultan and Vizier kidnapped by Atarikalimites. Afghan civil war begins. Alimite Dynasty takes India. Farucite Dynasty holds Afghanistan.
Chinese troops invade Japan and drive Japanese army inside Tokyo. Land bombardment begins.
Fatimid and Millenium Jihad forces defeat the Baghdad and Afghan armies. Baghdad colony falls.
1561
Fatimid and Millenium Jihad forces defeat the Afghan cavalry force at Sanduk.
1562
Tokyo's ramparts fall; enraged, the Japanese army defeats the Huang Chinese.

---
EUROPA

Western Europe Mercs: 20mc, 20mi, 20mw, 5ma

DAS STORDANSK KEISERDOMME
Kristan, Kaiser of All Danes, Tsar of the Russias, Smiter of Winic Daemon Hordes, Defender of the Faith, Master of the North, Emperor of the Western Romans
DIPLOMACY: Uppland(t), Iceland(nt)
A cease-fire was called with the Russians and trade started. The details were not disclosed. The whole of Dania was relieved for the war had gone nowhere for a generation. That didn't mean the great armies were idle. Deacon Jones and Sven Olaffson conquered the Atlantic city of Zhyolt. Because of the Canaries' adherance to Slavonic Orthodoxy, the island and city was forcibly crammed with Culdi creeds. Thereafter the ships swarmed and attacked the Baelerics. Sudoua fell to a passive siege. There wasn't enough troops to gunpoint the Moors there to Christianity. Just in case, navies patrolled the Gulf of Finland, the Baltic Sea and Skaggerak. Russian merchant ships were directed to dock at Lubeck. Kuyavia and Galich so long isolated revolted and become independent.

THE REFORMED CULDI COUNCIL
Edwin, Scion of St. Camber, Head Dom of the Culdi Council
CONSECRATION: Mercia(ca), Northumbria(mn), Anglia(mn), Norway(mn), Kuyavia(ab), Sandomir(ab)
Edwin and his Junior partner galloped around founding abbeys as they went.

THE HANSEATIC LEAGUE
Hugo Charm, Hauptsächlich Kaufmann von Hansen
CAPITALIZATION: none
At least Hugo made it to the board meetings.

DAS KONENKRISK DER GRUSRHEIN
Gavin, King of Greater Rheinland, Lord of Batavia, Stadhouder of the Netherlands
DIPLOMACY: none
The Dutch were happy to not be fighting anymore. They worked on internal stuff. An army safeguarded the Christian colonization of Gascony while San Pellegrino was rebuilt. A royal road was constructed from Amsterdam by way of Arnhem to Frankfurt. The ruins of Rotterdam were rebuilt upon and was remaned to its original tag: Montpellier. Obodria became cultivated. Austria's new city was called Vienna. Swabia was restored to (2/4) EO.

AR ROKKID MALIKAT AL ANDALUS
Walid III, Malik al Andalus
DIPLOMACY: Valencia(nt), Saragoza(nt), Talavera(t)
The Rokkids sold loyal Granada, who stood by them in thick and thin, to the dirty, land-grubbing Yoruban bastards. Granada rebelled to become neutral. Talavera and Extremadura became cultivated.

THE POPULAR REPUBLIC OF ITALY
Francesco Tornabuoni, President of the People's Republican Society of Italia
DIPLOMACY: Sardinia(fa)
The city of Napoli was built for Campania. A fire burnt down a part of Turin, but the Shroud was kept safe.
Eastern Europe Mercs: 10mec, 10mei, 50mc, 10ma

THE KINGDOM OF HURSZIA
Vlad II, King of Hurszia, Grand Zhupan of Pethion
DIPLOMACY: none
Vlad hadn't a clue now. Someone spotted a herd of red cattle in the plains of Banat, but they were all abducted by flying lights.
THE HOLY ROMAN EMPIRE OF THE RUSSIAS
Sonya, Czarina of Great Russia, Empress of the East
DIPLOMACY: Kirivich(fa), Courland(c), Crimea(ne), Veposkava(ne), Yaroslav(t), Kama Bolgar(ne), Muscovy(aw), Pelym(ne), Lithuania(nt), Prussia(ea), Vladimir(ne)
The Foreigner was trusted to take all the troops and he took them back to Tver to watch the queen. He was joined even more aliens, 100,000 Damxü cossacks and green men from Zeta Reticulli. Vrousky ignited the heathens of Muscovy to sharpen their swords for war. Someone spotted a herd of lime green Triceratops in the forests of Yaroslav. When the farmer brought his friends, the herd was gone.
THE PATRIARCHY OF THE THIRD ROME
Basil III, Metropolitan of Vitebsk, Patriarch of the Third Rome
DIPLOMACY: none
The metropolitan of Vitebsk finally declared himself a Patriarch and his city was to be the new center of Christendom.
THE ROMAN KINGDOM OF ANATOLIKON
Herakles, King of Rumania
DIPLOMACY: Rhodes(c), Malta(a), Thessaly(nt), Macedon(c)
Herakles and his army reluctantly defended their capital from the Global Warriors. The Imamists at the Peloponesse cove did not leave. They're down to 197 warships. The weather got worse.
THE KINGDOM OF ARMENIA
Acacis, Shah of Armenia
DIPLOMACY: Kuban(f)
Prince Acacis awaited the invasion in Charsionon. Then in 1560, his father Nisibis died. Acacis had a special rapport with Jews - so much so that the regions of Azerbaijan, Kuban, Shirvan and Terek converted to Eastern Orthodox Christian and became friendly.

---

AFRICA

Al Mahgrab Mercs: 10mi

AS SHMALID SULTANAT AS SIQILLI
Achmed, Sultan of the North, Ruler of As Siqilli
DIPLOMACY: none
Someone tried to murder Achmed. The Sultan died.The waters turned to blood along the coast of Algeria. People died from the vaporous fumes.

West Africa Mercs: 20mi, 20mc, 10ma

THE UMMA OF ISLAM (YORUBA)
Rucat, Sword of Islam
DIPLOMACY: Boure(f), Jenne(a)
A great fleet of 450 slave galleys rowed over to Barqa to eventually help the Fatimids. Meanwhile missionaries were active in both Idjil and Merrakesh, converting half the population in each place to the lifestyle of the Shining Path. An important hostage, the Sultan of Ghaznavid, was taken from Egypt to be incarcerated at the Copratan Prison in Gao. The cities of Keni-Eba (4), Ifni (4), Parqr'h (5), Ilorin (6) and Baughazwil (7) got stuffed. Two new cities were chartered: Birku in Garou and Kumale in Zerma. The Morocco-Oujda link of the Great Highway was constructed. Food was imported from all over the world.


THE HIMRAD SULTANAT OF DAURA
Azucentia II, Sultana of Ngazargumu, Magajiya of Daura
DIPLOMACY: Thebes(ne)
The ultra-large, mega-numbered army in Misr was ready to crush whoever might invade Misr. The Princess-in-Chief Landeria Bint-Azucent was worried for her mother was getting old. Sharasatola got to do all the fun stuff. Her 65,000 lasso riders, 235 cannon and 20 catapults rounded up the entire, unfortunate population of Meroe. These Copts were dragged to Kordofan. The thralls from before ended up slabbing parts of a road from Sitona to Darfar, Quada then Salamat. Cities: Nozebed to 8 Gpv, Miayar- 9, Chirop'tera - 9.

THE IMAMATE
Ayatollah Khomeni XVI, Protector of the True Children of Islam, Guardian of the Shining Path, Imam
CONSECRATION: Keni-Eba(mn), Takrur(ab), Cheysuk(mn), Boure(ab), Nozedned(ca), Chirop'tera(mn), Maza(ca)
The Imam died in 1023. He had done some good work in Senegambia. Sagremor the Unruly was hurt while at his Peloponesse hide-out. He didn't feel like moving. Some of his ships deserted. No onw knows where the new Imam was.

THE OVI PANTRAPY OF MBUNDU
Kabunga II, Pantrap of Mbundu, Lord of the Fell Gates of Khatovar, The Last True Afro-Pagan on Earth
DIPLOMACY: none
Okonkwo II, one of the worst rulers in human history died in 1023. He left a grand legacy: the Lunda Pony Trail which stretched over Ankolye's mountains to Kivu through Mitumba (just conquered by Bwana) to Likasi and ultimately due west to Khatovar. Bwana who had conquered Likasi was joined by Nybeki and together they conquered Kikuyu. The mercs sat out when the region was backslid by violent means back to Afro-Paganism.

East Africa Mercs: 20mi, 20mc

THE BASARI EMIRAT AL HA'BESH
Nasr ad Dawla Sa'ud Shah ibn Yusufri al Basar,Amir al Ha'besh
DIPLOMACY: none
The refugees stayed in Adulis, acting helpless and doing nothing for anyone.

THE KINGDOM OF ABYSSINIA (ASEB)
Rapheal, King of Abyssinia, Negus Negesti, Anointed by Jah, Lion of Judah
DIPLOMACY: none
The True Copts were molested by the crazy fanatics of Fatima. Aksum and Berdera fell to a force of 50,000 Egyptians.

SHIRKI AT TIJAR AL IFRIKI AS SHARK (STIS)
Kalif-Sied, Chief Executive of the East African Trading Company
CAPITALIZATION: Kumbi-Selah(mf), Fez(mf), Cairo(cc), Bouma(mf), Safi(cc), Maza(mf), Gao(cc)
The director established a cartel city in Cairo after failing to sanction a branch office in Ziba. The Coalition opened up trade routes for Mbundu with everyone they could reach and took over some of the Umma's trade. The Ghaznavid vizier has been locked up in the basement of the home office in Samalut. Perhaps this terrorist act was designed to blackmail the Afghans into allowing the STIS access to their country.

THE FATIMID CALIPHAT AL QAHIRA
Al Haidi, Maliqa al-Arabiya, Lady Caliph of the Ba'athist Muslims, Keeper of the Martian Secrets
DIPLOMACY: Aleppo(ne)
After many decades of neglect the Mars Canal was rebuilt using Coptic, Sunnite, Russian and Greek slaves. This waterway would help the navies of Black Islam cross into the Indian Ocean. The Millenium Jihad finally got a chance to express its hatred and contempt for the Ghaznavids - but before that happened, there was another hiccup. Lasik Khadafi declared himself independent of the Caliphat soon after the baby Caliph boy Al Jasur was poisoned. Sicne he also repudiated the Imam and the Shining Path (to become a regular Shi'ite), the Jihadin uprose against him and his followers. Difram took over the Palestine garrison and linked with Wufill and the regulars plus the Umma jihadin all rendezvous at Jordan: A great army of over 500,000 men. In 1021, they attacked Dulaym and killed off the Ghaznavid garrison. Their action triggered a Ghaznavid reaction: a rumbling force of mostly cavalry left its camp at Gurgan. Their leaders had been cut down when the force crossed into Iraq. Without these leaders, they stalled. The Millenium Jihad fearlessly advanced to the future site of Armageddon (2007: Don't miss it! So much fun, it will make you glow). 142,500 cavalry, 80,000 Jihadin cavalry, 237,500 jihadin infantry, 39,500 regular infantry, 390 catapults, 26 mortars and 175 great guns. The defenders were 81,000 Ahmud cavalry, 125,000 Ghaznavid cavalry, 11,000 Ghaznavid elite ghulams, 76,500 Ghaznavid line soldiers, 610 cannons and 41 field forts. One Ghaznavid leader had been assassinated. The other was wounded. The Ahmudi leaders took charge of the defense of their homeland. They weren't as skilled at battles. Wufill, the Fatimids' best leader was injured so Difram had to take over. The rumors of the Ghaznavid great cavalcade were untrue, it seems - the Fatmids outnumbered the Sunnites by 150,000. Then the Ghaznavids lost an additional 68,500 from fear. The Fatimids clashed with the Ghaznavids and gained an even greater advantage after so much bloodshed. In the final stages of battle, Difram vacillated. Lt. Gusah seized command. He wasn't smart but his leadership was enough to end the Ahmudi Emirat and all their defenders. Baghdad was occupied and the treasury was captured. The survivors of the battle: some 461,000 fighters then reacted to a rear attack by the Ghaznavids. 483,000 cavalry attacked Dulaym attempting an encircling. The ploy could have worked if they started sooner. Instead, the Fatimid force with their artillery and better leadership was able to weather the attack at the field of Sanduk. Blown to bits by explosion and mayhem, the Ghaznavid force was thrown into complete confusion - easy prey to blood-thirsty Jihad sabres and muskets. The Fatmids only lost 48,500 Jihad infantry. The Ghaznavids lost 380,500 cavalry. The great battles in Mesopotamia overshadowed Lady Ruaia's attack against Aksum. Ruaia conquered Aksum, captured Berbera in siege and then militarily converted the region. A huge bribe wasn't enough to induce the populous city of Antioch to better join the Caliphat. The new Lady Caliph who took over in 1021 became known as 'Al Haidi'. Her first act was to transfer the captured (and ugly) Sultan of the Ghaznavids: Tughril III, into the custody of the Yorubans.
---


ASIA

Southwest Asia Mercs: 20mi, 20mc, 20mw

THE AHMUDID EMIRAT OF BAGHDAD
Goudfari and his lieutenants were caught in the slaughter near Baghdad. The Ahmudi dyansty became defunct. The territories that clung together: Abadan, Diyala, Hahmar, Hormuz, Jibal, Kipchak & Zagros rejoined the Ghaznavids (the Avestan part). The rest that weren't conquered became independent.

THE KINGDOM OF NEW ITIOPYA
Mulugeta, King of the Itiopyans, Negus Negesti, Anointed by Jah, Lion of Judah
DIPLOMACY: none
The expected contribution from the Ghaznavids and/or the Huang did not arrive. There just wasn't enough cash to support the government. Despite the short shrift, King Daoraned demanded that his people abandon hard-won Samarkhand. Discontent was high. Why give up a good homeland when the powers who demand your departure won't help out? A rebellion turned on Daoraned to prevent this second, unpopular migration. It permeated even the general class. The rebels succeeded defeating Daoraned, 5000 cavalry and 27,500 infantry with 5500 cavalry, 42,500 infantry, 65 artillery and 40 siege of their own. Now down to 47,000 men, the new rulers of Itiopya had to defend their homeland against 175,000 Chinese knights. With the help of the 6 unsettled tribes, the artillery and the leadership of Endrey and the homeland, the Chinese were utterly defeated. Another 13,500 infantry were lost. The Chinese lost 51,000 cavalry and were bounced back to Uzbek and Pamir.

THE DAMXÜ COSSACK HORDE
Damxü, Ataman of the Layerug Host
HORDE DIPLOMACY: Ural Horde(ne)
The horde: 100,000 cavalry went by way of the Khazaric plains to Russia to defend them. They converted to Eastern Orthodox to become Cossacks.

THE FARUKAS SULTANATE OF AFGHANISTAN (GHAZNAVID)
The Hearty and Hale Hotspur, The Huge, Heroic Hematitic and Humungous Hackalope, Most Honored and Holographic Highness, Hugharin ad Dawla Sinjar IV, Hkan of the Hindus, Hsultan of Havestan, Hcieftain of the Hnutter Hbutters
DIPLOMACY: Karbala(nt, but then rebelled)
Early in 1020 AH, Sultan Tughril III in Gurgan and Vizier Ibn Il'amm in Mahmudabad were kidnapped by Black Muslim terrorists who evaded all the guards and traps. That caused great disruption in the Yamini capital. Sinjar IV proclaimed himself the new Sultan but he did so in a way that made enemies. The Learned in Sind announced his break with the Ghaznavids and took almost all of India with him. Another dissenter was old Nakbin who was executed by Etlif, the new commander of the Gurgan garrison. He was joined by Alsa and along with Ras'ar Rullad responded to an attack by the Black Muslims into Ahmudid territory. Tughril III had drawn up a plan of encirclement but such a manoever required speed and timing, something that could not be done expertly without the aid of the Ahmudids themselves. These slobs sat around and expected the Ghaznavids to clean their stables from a thousand miles away. Perhaps if the entire force was together, the debacles at Baghdad and Sanduk could have been avoided. Instead what history witnessed was the collapse of the great Ghaznavid war machine at the hands of sub-Saharan rabble and Egyptians.
125,000 cavalry led by Alsa and Ras'ar Rullad with 11,000 ghulams, 76,500 infantry and 610 cannons helped the Ahmuds near Baghdad. All died at the hands of the Atarikalimids. 69,500 elite cavalry, 413,500 regulars rdoe behind the reaction and secured Karbala by intimidation before attacking Dulaym. It was too late. The Imamists had already defeated the armies in Iraq. They turned against Etlif and handed him a serious defeat at Sanduk. 122,500 survivors escaped back to Hahmar, fortunate enough to tell their tales. With the loss of all India, the Ghaznavid realm shifted west now controlling: Abadan, Diyala, Hahmar, Hormuz, Jibal, Kipchak, Zagros, Afghanistan, Bactria, Gurgan, Jhelum, Kashmir, Khurasan, Kuhistan, Multan, Pathan, Punjab, Seistan, Tabaristan and Zabulistan.

THE ALIMID EMPIRE OF HINDUSTAN
Al Alim, 'The Learned', Imbaratur al Hindustan
DIPLOMACY: none
They called him The Learned, he was the admiral of the great navy of Ghaznavid. With the overthrow of Tughril in 1020, he and his agents skillfully obtained control of almost all India. His Empire: Ajmer, As Sanaa, Baluchistan, Bihar, Chela, Chitor, Dahala, Dravidia, Gujarat, Jats, Jaunpur, Jihjhoti, Kakatiya, Konkan, Kosala, Kuru, Lata, Maghada, Malwa, Najran, Pawar, Sind, Socotra, Sukkur, Surashtra, Sursuti, Tirhut, Turshar, Vatsa and Vengi. This empire's new capital was the fortress Al Hagar.

THE ENLIGHTENED KINGDOM OF TIBET
Sujisain, 10th Host of the Oceanic Buddha, Queen of the Mystic Arts, Incarnation of Pan-Dan Lha-Mo
DIPLOMACY: none
The mounains were alive with the pulsing throbs of drums.

Funan Mercs: 20mi, 20mw

THE SIAN KAMBUJADESA
Indravarman II, God-Emperor of the Sian Kambujadesa, Grand Abbot of Lopan
Emaihe, Chief Monk of the Golden Palace, Premier of the Earth
DIPLOMACY: Orissa(f)
Sindar Yail proved to be more serene than was expected. Some cities attracted new residents: Vijaya to 9 Gpv, Tahoi - 9, Dagonapur - 7, Rangon - 12, Barang - 10, Hangchow - 6, Pa - 13. Top Daoists in China were invited to the Golden Palace, none showed.

THE MATARAM KINGDOM
Hurabhattangisanavarman, King Neptune of the Matay, Lord of Java, Chief of Celebes
DIPLOMACY: Yampi(ne)
Fai became frustrated trying to diplomacize a pacified region.

China and Japan Mercs: 20mei, 20mec, 10mea

THE SANLIN TUNGUS HORDE
Janron, Emperor of the North
HORDE DIPLOMACY: Manchus(ne), Külü Horde(a), Vanot Tribes(aw), Shimlam(a), Jou Zu (ne), Dahorut Horde(ne), Vediha Kazaks(ne)
Janron wanted to be big and bronze (not buff, Mongolians have a darker complexion than that). The Külü tribes did join the Samlin ultra-host in the Hoche region. The Vanot were angered by all these equestrians trampling on their petunas. The Samlin beat them and those that survived ate tainted apple sauce to ascend to a 'higher level'. In Shimlamland, there was some new followers. Only apathetic tribes could be found in the Altaic Steppe.


DA HUANG CHINESE EMPIRE
The All Powerful and Celestial Lord, Huang In-Do, Son of Heaven, Giver of Life, Protector of the Golden Path, Guardian of the Immortal Gate, Father of the Han, First Groundbreaker of the Bountiful Land, Wizard of the Nine Suns, Master of Matter, Agent Double O Soul, Gatherer of Clouds, Earth-Shaker, Sky-Smasher, Power of the Cosmic Mojo, Grand Dragon Extraordinaire, Most Likely to Succeed, Mystic Fiber of All Nature, Mister Know-It-All,Yellow Emperor of the Middle Kingdom, Ruler of the Entire World
DIPLOMACY: Kulsary(nt), Uzbek(nt)
Tongon showed off his warcraft prowess by landing 300 elite artillery pieces, 37,500 elite cavalry, 10,000 elite infantry and 25 eltie siege artillery on Kwanto in the face of a superior force - 45,500 elite cavalry, 17,500 regular cavalry, 3000 elite infantry, 67,000 infantry, 50 elite artillery, 600 catapults, 18 elite and 28 regular mortars - and beat them. The Japanese army retreated within Edo. The 25 Huang siege artillery began a bombardment of the 120 foot walls of Tokyo. Within the year Fing brought 37,500 cavalry and 25,000 elite infantry on board 400 warships and dumped them at Yamato. There was nothing in Yamato to stop them so the rich region and great city were pacified. Same for Aichi and the metropolis of Nagoya. Fing then joined Tongon and helped him in the bombardment of Tokyo. Finally in 522 Nian Huang the walls were down. The army that had been defeated by Tongon two years before had been huddled in the capital. Confident, the Chinese attacked. Noe the Chinese had 17,500 elite cavalry, 22,000 regular cavalry, 25,000 elite infantry, 25 elite siege artillery and 50 elite artillery. The Japanese had 45,500 elite samurai, 17,500 country samurai, 3000 elite infantry, 17,500 regular infantry, 50 elite artillery, 600 catapults and 46 mortars. The city dwellers of Tokyo filled with hatred for the Chinese assisted the Japanese and soured the Chinese at every opportunity. The Chinese lacked the sheer power to crush Tokyo and the Japanese army. The Chinese that survived the Tokyo experience were now counter-attacked and were completely wiped out. There were then uprisings in Aichi and Kwanto which wiped out the Chinese garrisons. The attack against Japan failed.
Elsewhere, the armies were suffering too. Lord Rima and 10,000 elite cavalry tried to club Cim - now defended by 42,000 Ural Hordesmen. The barbarians massacred Rima and his men. Zecho had 140,000 cavalry which he used to intimidate Kulsary and Uzbek into rejoining the Empire. The land of Soghdia now called Itiopyans by the Coptic exiles were defended by an anti migration force which repulsed Zecho and the 140,000 and Danxo's 35,000. Ayaguz, Betpak, Tunhuang and Yumen became cultivated.

THE NAGATOBI SHOGUNATE
Tenno Temo, 93rd Emperor of Nihon, Divine Son of Amaterasu
DIPLOMACY: Hokkaido(ea)
Taii Nanako and Kosuzai set off to Saga to shuttle troops to China to do what ever the Emperor had agreed to do in order to obtain peace with China. Once they left, the Chinese broke the treaty and invaded Kwanto. Nanako and Kosuzai arrived in Saga after war broke out but didn't want to leave because 400 Chinese warships patrolled around the island. Another 416 warships surrounded Tokyo but did not engage the 100 elite Japanese warships. After two years bombardment, the Chinese tried to capture Tokyo but were repulsed and the survivors were attacked by the mostly intact Japanese army. Prince Temo with 61,500 elite samurai liberated Yamato and Aichi. A Chinese marshal (Tongon) was taken prisoner. With the exception of the surrounding waters, the whole of Japan was free. The nation celebrated so much that many people came out to assist the new Emperor Temo to protect the Blessed Islands. An effort had been made to expanded Tokyo but the battles and bombardment had reduced Tokyo's population to 13 Gpv.

THE KINGDOM OF PONAPE
Iniki IV, First Chosen of Nan Matol, King of Ponape , Keeper of the Mystery Blocks
DIPLOMACY: Te Awampu(fa)
The evacuated islands of Vanuatu and Samoa were colonized to become both (1/3) OP.
---
THE NEW WORLD

South America Mercs: none

THE PARANA ASTRONOMERS
Adgalan, Chief Astronomer of the Parana
DIPLOMACY: Itacare(ne), Gueren(fa), Huarpe(a), Camacan(ea)
Postal roads were set up between Gueren and Itacare and then from Kaingan through Tupinamba to Patasho.
THE SOLAR KINGDOM OF PERU
His Solar Highness, Tapiuz, King of Peru, Lord of the Earthen Lines
DIPLOMACY: none
Valgol died. His son Tapiuz became the new king.
North America Mercs: 10mc

THE ROANOKE RUSS
Rostov, Kynaz of the Roanoke Russ, Chief of Jamaica
DIPLOMACY: none
Povlov did more whaling. He got lucky in the Antillan Sea catching a pod there. The rest of the time, he and his men netted some deep sea fish.
THE MAORI EMPIRE OF MEXICO
Acimaco IV, Ariki-a-Maaori, Beloved of Tangoroa, Quetzal Emperor of Mexico
DIPLOMACY: none
Ma'a came back home.
THE REQUELA KINGDOM
Chitaotin, King of the Requel, Keeper of the Tikal Codex
DIPLOMACY: Huastec(t), Tamaulipec(ea), Jonaz Pame(ne)
The Requelans finally secured their Gulf port in Huastec.
THE BENGKH KINGDOM OF SAN FONKISO
Okwang, King of Bengkalis, Guardian of the Straits
DIPLOMACY: Chumash(ne), Tolowa(t), Yurok(c)
Bengkal grew to 6 Gpv. The Chumash diplomacy was botched by the espionage squad.
THE TWILIGHT KWAKIUTL KINGDOM
Madilbe, Twilight King of the Kwakiutl
DIPLOMACY: none
Life was rather pleasant unless you were a rock.
---

The MSI Rankings List

Rk Country MSI ITV Player Phone # eMail Address
Gargantuan
1 Huang China 1056 134 Jonathan White 602-894-5311
Titanic
2 Fatimid Caliphate 703 47 Big Bad Bob arizona
3 Sian Kambujadesa 534 78 Scott Hagen 602-756-0104 scott.hagen@alliedsignal.com
4 Umma 462 89 James Kramer III 602-272-8046
5 Great Rheinland 440 57 Logan Vanderlinden 512-479-7692 loganv@concentric.net
6 Alimid Empire 363 61 Jack Wagner 602-242-4794
7 Himrad 348 40 Heidi Zoltz 602-935-7006
8 Mataram 336 32 Barnacle Bill new mexico barnacle1@juno.com
9 Imam of Parq'rh 334 7 Earl Solper 602-921-3716
10 Japanese Empire 333 41 Charles Hurst 503-653-1178 charlesh@teleport.com
11 Ghaznavid Sultanat 326 47 open. Lottery until 7/13 at midnight MST
12 Danish Empire 319 34 George Shrake 602-894-1384 shrake@imap1.asu.edu
13 Rosska Empire 316 38 Jamie Goodwin arizona trillian@imap1.asu.edu
Huge
14 Armenia 263 22 Dennis Doubek 602-820-4313 doubek@soho.ios.com
15 STIS 175 53 Craig Bartels 602-677-6886 axcrb@asuvm.inre.asu.edu
16 Mbundu 153 26 Lance Solper 602-921-3716 lancesol@imap2.asu.edu
17 Anatolikon 145 11 Mark Newman 602-878-9359
18 Rokkid Andalus 142 13 Andre Kieren 410-203-0652 akieren@apexgrp.com
19 Solar Peru 137 19 Ted Kaminski 608-253-9231
20 Maori Arikate 128 20 Tom Jordan washington
21 Dalai Lama in Tibet 109 7 Ken McGee 360-687-0421 keng@pacifier.com
Big
22 Ponape 96 22 Tom Hudspeth england?
23 Culdi Council 94 2 John Carter virgina
24 Popular Italy 94 10 Warren Bruhn 503-623-1001
25 Hurszia 90 7
26 Shmalid 87 10 Ed Peterman california
27 Sanlin Horde 70 0 Darin Byrne 602-431-8660 darinb@clh.com
28 Requela 67 10 Dave Welches 602-498-0922pgr cibonyqqqq@aol.com
29 Parana Stargazers 62 8 Stephen Nobles 602-589-5188 imperi@goodnet.com
30 Twilight Kwakiutl 58 7 open 3.75/turn eMail
31 New Itiopya 56 0 Kerry Harrison 512-837-5553 kerry@io.com
32 Hanseatic League 53 20 Ryan Kilkline arizona
Medium Sized
33 Bengkh 48 6 Mike Overstreet 602-969-8840 spiketeo@aol.com
34 Roanoke Russ 44 8 Roger Truitt 209-584-3989 emo@kingsnet.com
35 Damxu Horde 42 0 Aerin Rosenberg 602-894-6386 hunter@primenet.com
36 Aseb Abyssinia 34 6 open 3.50/turn eMail
37 Basari Ha'besh 33 0 open 4.00/turn eMail
38 EO Patriarch 16 0 Nelson Gautier arizona nelsong@clh.com

X Everything Else Thad Plate 602-952-8929 plate@inficad.com

Lords of the Earth @1997 Wanderer Games
contents of this newsletter is@1997 by Thaddeus W. Plate