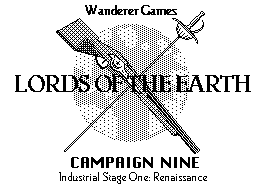 Turn One Hundred-Twenty-Three
1559 Anno Domini
Al Hajj 1019
519 Nian Huang
Zuni Reckoning 175

Next Turn's Orders Due by Monday, 7 April 1997

ANNOUNCEMENTS

Thad Plate Home Page: Type in
http://www.inficad.com/~plate
and you'll arrive to my own Webpage. There I have posted the latest Newsfaxes from my games and will also post maps and info for the newly starting Lords 12. My site will be the first to link the latest newsfaxes and will act as backup in case the Gumby site is down. Check it out.
Price Changes: For those of you who have been sending and recieving turns by eMail and faxes from the Web, I will now charge 3.50 + 25¢ per BL per turn (That's 50¢ less) per turn effective with the processing of the next turn (Lords 9: turn 124, Lords 10: turn 84, Lords 11, turn 24 and Lords 12, turn 1). Due to increasing paper, copying and mailing costs I must increase 'snail-mail' turns to $4.50 + 25 per BL per turn at the same time. I encourage all of you to join the internet as soon as possible.
Diplomacy Results: (ne)=no effect.
Section [9.9.1] How Nomadic Nations Work: The first two sentences, "When out in ....vast via Horde Diplomacy." should be crossed out. Table 2.9 make a provision for nomadic societies to ignore troop support in steppe regions.
Port Fortresses: Just to clarify and clear up that confusion. Port Fortresses may not be used for conduit anchors. You can, however, use them for land trade if the port fortress is within your Trade Range of sea zones from your nearest port.
Lords of the Earth, Campaign 12H: It's happening now! Like Lords 9 this game will be a historical start at 1000 AD. There are 112 openings which will be assigned by lottery, on Friday, March 28th. I plan two week turnarounds for this game, and because of that I can only accept local (Phoenix area) or eMail players. The Turn 0 Newsfax can be found at both my Homepage and the Lords Homepage and in hard copy at both the Game Depot and Waterloo Games in the Phoenix Metro Area. If you are interested let me know electronically, in person or by phone.
Lords Nine Unit Conversion
Each point of cavalry and infantry represents 500 fighting men. A warship or transport point = 1 ship with 500 men aboard each ship. A siege point = 5 sieges towers or catapults or 500 sappers. An artillery point = 5 field pieces each supported by 100 men. A field fort point = 1 tower manned by 500 men each. A wall point = 10 feet of ramparts and about 500 guards. A siege artillery point = 1 mortar (boulders included).



Lords Nine Turn Costs
OldWorld NewWorld
eMail Per Turn $3.50base,25¢@BL $3.50base,25¢@BL
Local Per Turn $4.00base,25¢@BL $4.00base,25¢@BL
Mailed Per Turn $4.50base,25¢@BL $4.50base,25¢@BL
8x11 Mapset $3.00 $2.00
11x17 Mapset $6.00 $4.00
Color Map $3.00 $3.00
Warning: There will be a $5.00 charge for each returned check. I do not accept post-dated checks.

Contacting The Gamemaster
Send Your Orders to:
Lords 9H c/o Thad Plate
5333 East Thomas Road #215
Phoenix, AZ 85018
Call Me at:
(602) 952-8929. Even when those beeping sounds I may still be home, don't hang up.
Fax: (602) 952-8075
eMail: plate@inficad.com
I pick up turns every Monday at the Game Depot at 708 S. Forest Avenue in Tempe, AZ

Rules Used in Lords Nine
This campaign uses the 1994 5th Edition Rulebook and the 1994 Renaissance Expansion v1.4. Any other rules will be noted in this newsletter.

Ordering the Rulebooks: Send check or money order payable to:
Thomas Harlan
4858 East 2nd Street
Tucson, AZ 85711-1207.
The Prices are:
5th Edition Rulebook: $13.00
Renaissance Expansion: $4.00
This includes delivery cost, domestic USA. If you are overseas add $2.00

LORDS OF THE EARTH WEB PAGE
The Wanderer Games Home Page can be found at:
http: //gumby.spa.umn.edu/cscdir/lotedir

THE WANDERER GAMES
PLAY BY MAIL EMPIRE
Lords of the Earth Campaign One: Thomas Harlan, 4858 East 2nd Street, Tucson, AZ 85711-1207. (602)323-8570 7pm-10pm. eMail: tharlan@tophat.pima.gov. Turn 187
Lords Two: 13224 Highview Drive, Burnsville, MN 55337. (612) 890-5878. Turn 41.
Lords Six: Kerry Harrison at kerry@io.com. This an eMail New World game starting at 900 AD. Turn 2
Lords Seven, The Dark Ages: Eddie Hartwell. 11517 23rd Ave, Burnsville, MN 55337. (612) 431-1858. Turn #10.
Lords Eight: Neil Stokes. 1674 Juliet Avenue, St.Paul, MN 55105. (612)698-9270 or nstokes@iceworld.org Turn #14. Set at around 300 BC. Open: Han(14), Numidia(20), Karnata(27), Buddha(30), Galatia(38), Iazygia(42).
PLATE GAMES:
Thad Plate, 5333 East Thomas Road #215, Phoenix, AZ 85018. (602)952-8929. Fax Number (602)952-8075. eMail: plate@inficad.com
Turns cost $4.00 + 25¢ per BL. 50¢ break for eMail; 50¢ added for US Mail.
Lords Nine: Turn 123. Open: Basari, Damxu, Aseb, Kwakiutl
Lords Ten: Turn 82. Open: Mapuche, Leopard, Ongut Horde, Bogyu Horde
Lords Eleven: Turn 42. Open: Jhelum, Yampi, Tupi
Lords Twelve: 1000 AD historical start. Turn #0 is out. 112 positions available. EMail or Local only.
Lords Seventeen: Bob Gurley 19502 Leaning Timbers. Humble, TX 77346. (713) 852-8866 or yuppyputze@aol.com. Turns are $3.00. Turn 5.
Lords Nineteen: James Chaney. 7316 North Black Canyon #3, Phoneix, AZ 85051. (602) 864-1175. Atacr@aol.com. Turn 6
Lords Twenty (eLords): This game is run strictly off the internet. Eddie Efsic at eddief6@ix.netcom.com. At turn 13



THE GLOBAL WAR (1532-?)
Fatimid, Atarikalimid Imam, Denmark, Dutec, Japan, Umma, Culdis, Popul Italy, Himrad, Mbundu, STIS, Basar
versus
Ghaznavid, Huang, Russia, Hurszia, Baghdad, Pijar, Anatolikon
Neutral: Hansa, Andalusia, Armenia, Shmalid, Mataram, Tibet, Ponape, Siam, the entire New World
Pain in the Butt: New Itiopya, Aseb

GLOBAL WAR TIMELINE
1500
Later Huang Diverts Silk Road to Russia.
1505
Benghazi Arabs complete their conquest of Italy.
Huang Chinese troops defeat Danes at Varshnask.
1507-1528
Druze begins their battles against Basra, Fatimids.
1508-9
SUDANESE UPRISING. Atarikalimi Sudanese razid Sanhaja, Andalusian shorelines. Daran Sudanese and Fatimid armies topple the Benghazi regime.
Russians capture Moldavia
1508
Afghan armies begin their conquest of Arabian Felix.
1510
Around this time, the Afghan and Chinese Empires sign an alliance treaty. The Asian Prosperity Alliance would later inlcude the Japanese, the Russians and the Cambodians.
1510's
Danes raid Baltic Sea coast
1512
Egyptian Spice Company (ESC) opens.
1513
Ivory-Spear founds the Wiyali of Lubnan at Brana.
Afghan armies complete their conquest of Arabian Felix.
1515
Fatimite Egypt convets to Atarikalami Islam
The Atarikalami High Priest, Khomeni XIV, calls a jihad against the Copts and Sunni Muslims.
Abyssinians attack Daran armies but are then repulsed near Cairo when they went after the Fatimites.
1516
Jihadin begin their assault against the Abyssinians.
1519
The East African Trading Coalition (STIS) begins its business.
1520's
Fatimite and Atarikalami navies raid Maghreb and Italian coasts.
Italian nationals revolt from the Arabs.
1524
Benghazi navy destroyed by Atarikalamis.
Under pressure from constant raids, the Sanhaja Sharifat collapses.
Late 1520's and early 1530's
Fatimite navies slave raid Coptic Red Sea coast.
1526
Local Depression is caused by a collapse of the Benghazi banking system.
1528
Druze destroyed by Fatimites. Palmyra's population is enslaved and moved to Darfur.
1531-4
Popular Uprising in Italy drives out the last of the Arabs.
1531
Danish Kaiser linked to the Atarikalami Muslims.
1532
Russians invade Pomerania, start of the GLOBAL WAR
1533
Daran and Fatimite armies conquer Nubia and enslave the whole region.
Lombard pirates sack two Danish cities on the British Isles.
1533-38
Chinese and Afghan armies conquer Sarkhagistan.
1535-38
Afghan armies conquer much of Basran Persia.
Hurszians attack the Po Valley while the Populs drive the Lombards from Italy.
STIS and Atarikalamis shut down ESC offices in Egypt. Spice Company is split into two: Maghreb (SBM) and Arabian (SBA).
1536
Russians defeat Dutch and occupy Holstein.
1536-38
Danish armies counterattack, liberating Pomerania and pacifying Prussia.
1537
Mbundu conquers Nia Nia from the Abyssinians.
1538
The Global War escalates to become truly global: Afghan armies clash with Fatimites near Mecca. Afghan navy patrols the Red Sea. Chinese armies reinforce Russia.
1539
Great unrest against the Afghan Empire in Persia and Arabia. Atarikalamite Yemen founded.
1540
Danish counterattack destroyed, Russian occupy entire Baltic Coast and isolate Nydania.
Armenia attacks Lebanon.
1542
Chinese navy sacks Parq'rh.
MILLENIUM JIHAD. Atarikalimites come out in force to fight the Chinese and Afghans.
Afghan Empire creates Baghdad satrapy.
1544
Fatimite armies defeat Afghan and Chinese armies in Jordan (Azraq Ruins)
Ronin Cossacks conquer Nydania.
1545
Dutch armies defeat Russians at Kassubia.
Danish lands troops in Ilmen and begin bombardment of Novgorod.
Popul force chase the Hurszians from Italy.
1546
Culdi Church calls a Crusade against the Russians.
Chinese destroy the Sarkhagi remnant kingdom at Kohul.
1547
Danes defeat Chinese & Russian army at Ilmen. Novgorod counter-bombards Danish battery.
China and Japan fall out. Japan switch sides.
1548
Andalus enters war attacking Holland at Languedoc along with the independent Chinese navy.
Yoruban forces attack Andalus and capture Seville. The Andalus fall into civil war.
Mbundu defeats southern Abyssinian army and advance north. The Darans advance in the north of Abyssinia.
Cambodian garrison at Yemen wiped out by Fatimite Jihad.
Chinese conquer Japanese possession on the continent and keep the Japanese navy from unloading troops at Loyang.
1549
Chagatai attack Danish at Ilmen and are destroyed.
Around this time, the Fatimite Jihad forces occupy Afghan Arabia.
1550
Atarikalamid forces (the Basari) are repulsed at Abbis.
Arabian Spice Company (SBA) is destroyed by the Fatimites at Al Hadd.
1551
Abyssinian King Zanditu II assassinated
After a civil war, the Andalus make peace with the Atarikalimites.
About this time the Danish Crusade attack the Baltic cities. Culdi and Orthodox Christianity are polarized.
A cease-fire is called between the Afghans and their Baghdad colony and the Fatimids.
1552
Rogue Andal army destroyed by Italians and Dutch.
China defeats Japanese navy at Eching. Japanese army driven from Manchuria.
1554
Danes quit passive siege; their assault against Novgorod fails.
Huang Western Navy destroyed by the Atarikalimite fleet.
1555
Atarikalimite fleet raids the southern coast of Russia.
Russian and Chinese armies defeat Danes at Ilmen (Baketch) and clears them out. Ronin are wiped out.
Abyssinians evacuate the Amharan Plateau. They flee to the Afghan port of Mansura.
Chinese sinks the entire Japanese navy near Sarchou.
1556
Danes and Russians effectively stop fighting.
1557
Atarikalimite Fleet start raiding Anatolikon coast. The Greeks dragged into the war against the Imam.
1558
Abyssinian refugees settle at Samarkhand and break direct Chinese communication with Russia.
Chinese navy bombard Tokyo.
1559
Chinese conquer Korea from Japan.

EUROPA

Western Europe Mercs: 20mc, 20mi, 20mw, 5ma

DAS STORDANSK KEISERDOMME
Kristan, Kaiser of All Danes, Tsar of the Russias, Smiter of Winic Daemon Hordes, Defender of the Faith, Master of the North, Emperor of the Western Romans
DIPLOMACY: Uppland(nt)
The Danes sent their navies to protect their coastal waters from the Russians. A great big shipment of gold (900 megamarks) arrived from the Guinnean Umma. The whispered rumors were that the Dread Imam wanted to buy the Danish Empire. Sven Olaffson joined with Deacon Jones to militarily convert Cornwall to the best version of Christianity. Having done that both set off into the Atlantic with their ships to visit the Canary Islands by the end of 1559. In Halland by the cold Skaggerak waters, Varberg was founded.

THE REFORMED CULDI COUNCIL
Edwin, Scion of St. Camber, Head Dom of the Culdi Council
CONSECRATION: Sussex(ca), Wessex(ca), Lancaster(ab), Northumbria(ab), Romsdal(ab), Anglia(ab)
The Culdis increased their influence in Britian. They innocently accompanied the Danish Navy in the Baltic searching for converts amongst the Godless hordes.

THE HANSEATIC LEAGUE
Hugo Charm, Hauptsächlich Kaufmann von Hansen
DIPLOMACY: none
Hugo called for no business as usual.

DAS KONENKRISK DER GRUSRHEIN
Willhelm V, King of Greater Rheinland, Lord of Batavia, Stadhouder of the Netherlands
DIPLOMACY: none
The Dutch sent a force southeast to clear Pannovia of the Hurszians. 116,500 horse mounted maulers, 135 artillery and 16 mortars rode through Alemania to Bavaria and then stopped. The directions said that Pula was next to Bavaria but the map completely spaced the Alps. Seth Bidj took the elite dragoons to Gascony. The Muslim Gascons were gunpointed in the way of Christ (EO) then the city San Pellegrino was sacked. The King had to take his 200,000 cavarly to smash 15,000 Pijar bandits in Thuringia.

THE MALIKAT AL ANDALUS - Rokkid Faction
Walid III, Malik al Andalus
DIPLOMACY: Valencia(c), Talavera(nt)
The Andalusians allowed the Yorubans to take land on the European side of the Pillars of Hercules so that they can build a fortress at Jibalterik.

THE POPULAR REPUBLIC OF ITALY
Francesco Tornabuoni, President of the People's Republican Society of Italia
DIPLOMACY: none
Sardinia became cultivated. Baldini didn't take advantage of it.
Eastern Europe Mercs: 10mec, 10mei, 50mc, 10ma

THE KINGDOM OF HURSZIA
Vlad II, King of Hurszia, Grand Zhupan of Pethion
DIPLOMACY: Ludgorie(ea), Styria(ne), Temesvar(ne)
There was an assassination attempt on Vlad's life. He wondered who it was as he roused new troops into the military. Paich the arm wrestling champion of Paks almost got arrested by Russian guards in Thrace for 'Disturbing the Decent'. He fought his way out and hid at a tavern in Bulgaria.
THE PIJAR EXILE COMPANY
Sho-Ri took his band of slime to Thuringia to plunder the place for nobody wanted to hire the Exiles as mercenaries. Almost the entire Dutch army came down upon them and knocked them over flat. There were very few Pijarites who had not been converted to bloody pulps.
THE HOLY ROMAN EMPIRE OF THE RUSSIAS
Sonya, Czarina of Great Russia, Empress of the East
DIPLOMACY: Yaroslav(hs), Veposkava(ne), Pelym(ne), Lithuania(nt), Kama Bulgar(c), Kirivich(ea), Prussia(t), Crimea(nt)
The Russian Tsarina agreed to hire the 4th Huang Army for three more years. She sent them the payment but the Huang Army Commander claimed to have never seen it. The Khitan condottieri raided a few public works in Ilmen and were chased off by 114,000 Russian troops. Another Chinese force came marching into Russia. 34,000 regular dragoons rode from Yayik to Ilmen to help out. They picked up their garrison that had been encamped near Vitebsk. Their leader Dua Hong died in 1558. Yaroslav didn't like the way they were treated by Minister Pratov. Tavda and Pelym revolted for being too isolated (and too Jewish) from Mother Russia.
THE HAN FOURTH ARMY
Heavy desertion and some sabotage shook up the Fourth Army. Deyi was hurt in a bomb explosion. What really did the Fourth was lack of pay. The Russian welched on their deal. The troops, starving as they were, went berzerk in Ilmen where they had to be killed by Russians.
THE ROMAN KINGDOM OF ANATOLIKON
Herakles, King of Rumania
DIPLOMACY: Macedon(ne), Malta(fa)
The Anatolians fully expected it to happen but they really couldn't do much to stop the 214 Atarikalimite slave galleys as they sunk the merchant fleet that traded with Egypt in 1557. These then ravaged Rhodes. Rhodes couldn't take it and quit Anatolia. 14 warships protected the Ephesus ships but these were destroyed by the bum black bastards and Ajax went down into the salty water. The Ephesos merchant ships were either sunk or captured. The Imamists then slave raided Macedon, raided Thessaly and Hellas and found a cove in Peloponesse to count their ill-gotten gains. Macedon and Thessaly revolted. To make up for all the bad stuff, the Russian delivered some more bags of Ghaznavid period coins. Crown Prince Cesar married a Maltese girl and brought her home. Ephesus grew to 6 Gpv.
THE KINGDOM OF ARMENIA
Nisibis, Shah of Armenia
DIPLOMACY: Kuban(c)
The Armenians anticpated an attack and mass conscripted new soldiers for their horse army. They really would rather not fight and the Shah Nisibis declared Armenia to be neutral. Prince Acacis moved the troops to Psidia to guard the inland path. Paphlagonia became cultivated.

AFRICA

Al Mahgrab Mercs: 10mi

AS SHMALID SULTANAT AS SIQILLI
Achmed, Sultan of the North, Ruler of As Siqilli
DIPLOMACY: none
Fasher Hadi was assassinated. Achmed the new Sultan responded by being listless.
AS SHIRKI AL BAHARAT AL MAGHREB (Moorish Spice Company)
Asad, Director of the SBM
CAPITALIZATION: none
The money was saved up for a rainy day.
West Africa Mercs: 20mi, 20mc, 10ma

THE UMMA OF ISLAM (YORUBA)
Rucat, Sword of Islam
DIPLOMACY: Galam(f), Boure(a), Jenne(ea)
Eye brows were raised and there was some grumbling when a great sum of gold was sent to the Infidel (The Danish Empire). The Sword claimed the money was important for the inevitable conversion of Al Franj. The STIS contributed much bullion for the deal. Garou and Zerma were recolonized -- both are now (1/5)BM. Parq'rh, Tchien, Ilorin, Sevare improved as urban centers. A road connected Oran to Saf Oujda. A fortress was built by Jiko Taungi at Gibraltar. Morocco was converted to the Shining Path.
THE HIMRAD SULTANAT OF DAURA
Azucentia II, Sultana of Ngazargumu, Magajiya of Daura
DIPLOMACY: Thebes(ne)
The Himrad armies began to clear out areas abandoned by the old Ha'besh Kingdom. Gezira and Ain Farah were simultaneously enslaved and the captives were stockaded in Kordofan. 50,000 cavarly and princess Landeria and the Thebans guarded Cairo for their Fatimid allies who were supposed to be killing the Sunnites. The cities of Nozebned (7), Chirop'tera(8) and Mzunga Arudi (5) experienced civic sprawl.
THE IMAMATE
Ayatollah Khomeni XV, Protector of the True Children of Islam, Guardian of the Shining Path, Imam
CONSECRATION: Nozebed(mn), Chirop'tera(mn)
The Imam was out of sight for a while. The Wuzallah bounced around the Dauran lands. The abbey in Kreda was moved to Salamat. Sagremar the Unruly Also led the Divine Navy against the Ghaznavid project state of Chrisitan Anatolikon. The 214 warships and a few catapults and barrels of gunpowder destroyed and captured the Greek merchant fleets. They also raided Rhodes, Thessaly and Hellas and slave raided Macedon. The Greeks, it seems, were wealthy.
THE OVI PANTRAPY OF MBUNDU
Okonkwo II, Pantrap of Mbundu, Lord of the Fell Gates of Khatovar, The Last True Afro-Pagan on Earth
DIPLOMACY: none
The Afro-Pagans worked to support their less enlightened brothers and to streamline their empire. Mulobezi with a few troops conquered Likasi but it took much time. A postal road was constructed from Chokwe to Cameia to Likasi. Bwana and Kisumu jumped on Kivu and blasted them to bits. Kilwa (neutral) became cultivated.
East Africa Mercs: 20mi, 20mc

THE BASARI EMIRAT AL HA'BESH
Nasr ad Dawla Sa'ud Shah ibn Yusufri al Basar,Amir al Ha'besh
DIPLOMACY: none
Yusufri died. Sa'ud who controlled the Imamist troops took over at Adulis. The occupied land of Meroe was transferred to the Fatimids.
THE KINGDOM OF ABYSSINIA (ASEB)
Rapheal, King of Abyssinia, Negus Negesti, Anointed by Jah, Lion of Judah
DIPLOMACY: Berbera(nt)
Raphael of Danakil united the discontented remnants of old Itiopya in hope that Christianity could survive in Africa. Danakil got the alliegance of Aksum, Zeila and even Berbera.
SHIRKI AT TIJAR AL IFRIKI AS SHARK (STIS)
Kalif-Sied, Chief Executive of the East African Trading Coalition
CAPITALIZATION: Kanyamagufa(bo), Saf Oujda(bo), Oujda(bo), Volta(bo), Safi(bo), Timbuktu(mf), Gao(bo)
The Coalition took over more trade for Atarikalimite clients sending a trade expedition to Siam. Kingdoms poured much money into building mercantile houses but with all that effort only two got built: Saf Oujda by the Umma and Mbundu's Kanyamagufa. Most of the STIS leaders were competant except Abd Hanna who stay in the main office and do paperwork.
THE FATIMID CALIPHAT AL QAHIRA
Al Jasur, Malik al-Arabiya, Lord Caliph of the Ba'athist Muslims, Keeper of the Martian Secrets
DIPLOMACY: none
Lasik Khadafi had great plans for conquest but waited for extra troops that didn't amke it to Palestine. Inulla pased away in 1018 - her eldest (and newborn) son was proclaimed Al Jasur. The seasoned vizier (Khuki Sumra) would have been the regent but he had been captured by the Ghaznavids in Multan. So far the government held together. General Wufill exacted tribute from Shamiyah and Jazirah to come to a common border with the Ahmudids.

ASIA

Southwest Asia Mercs: 20mi, 20mc, 20mw

THE AHMUDID EMIRAT OF BAGHDAD
Tarif ad Dawla Goudfari ibn Shluki al Ahmud, 'the Grinning Totem', Emir of Baghdad, King of D'oh
DIPLOMACY: none
The Ahmudids did what they did best - in bed.
THE KINGDOM OF NEW ITIOPYA
Daoraned, King of the Itiopyans, Negus Negesti, Anointed by Jah, Lion of Judah
DIPLOMACY: Ferghana(hs), Khokhand(hs)
Ion Fourth asked for the people of Karin and Berbera to move with him to the new homeland. No one wanted to leave except a few soldiers. These loaded onto Afghan ship (many had been damaged en route) and went to Sind. All who were already at Sind moved through Great Avestan (up the Indus valley through the Khber pass and through Old Afghanistan) to obtain former Sarkhagi territories. The 5000 cavalry, 90,000 infantry, 65 artillery and 40 catapults conquered Huang controlled Soghdia and settled his soldiers to become the ruling caste there. Old Samarkhand was sacked and a new Samarkhand was built using Coptic refugees. Soghdia was renamed Itiopya and it became Coptic (mostly). The nearby regions of Khokhand and Ferghana were very unhappy about them and made the diplomats who visited them feel very unpleasant. The last remaininggg regions in Africa rebelled to join Aseb's kingdom.
THE DAMXÜ KAZAKH HORDE
Damxü, Ataman of the Layerug Host
DIPLOMACY: none
The Khan thought that 'Layerug' was too lame a name for such an awesome horde so he changed them to his own name: Damxü. 100,000 cavalry ran around the steppe a little and bypassed Chinese controlled Betpak and Ayaguz. How ironic that it was the horde that was polite.
THE FARUKAS SULTANATE OF GHAZNAVID
The Hearty and Hale Hotspur, The Huge, Heroic Hematitic and Humungous Hackalope, Most Honored and Holographic Highness, Tughril III, Hkan of the Hindus, Hsultan of Havestan, Hcieftain of the Hnutter Hbutters
DIPLOMACY: Tabaristan(f), Jowzjanan(c)
Do some poor, unfortunate Christian a favor or two and they'll screw everything up. Lanhim and the fleet of 670 warships, 191 transports made a return trip to Aksum to pick up the last Ethiopian remnants. On the way through the Gulf of Oman and passing by the Bab al Mandab, the fleet sailed into patches of oil which were lit on fire, destroying many ships. Other craft were sunk through various acts of sabotage. After the 5500 Coptic cavarly were taken back home Admiral Lanhim (hwo had been wounded by Heretic Extremists) and the Learned wondered if the effort was worth it all. The Itiopyans went on to mess with their Chinese allies in the north.
Cities expanded: Barises and Vijayangur, Now and Oruzgan to 3 Gpv, Indea to 4 Gpv, Nishapur sprouted to 9 Gpv; Peshawar became 10 Gpv; Thanesar converted to 11 Gpv. Money was given to both New Itiopya and the Russians.
THE ENLIGHTENED KINGDOM OF TIBET
Sujisain, 10th Host of the Oceanic Buddha, Queen of the Mystic Arts, Incarnation of Pan-Dan Lha-Mo
DIPLOMACY: Dagntsetsho(ne), Patang(t), Qinghai(nt)
The lamas began their building again. Tinsukia grew to 3 Gpv. Soon a royal road will connect Lhasa to Tinsukia.
Funan Mercs: 20mi, 20mw

THE SIAN KAMBUJADESA
Indravarman II, God-Emperor of the Sian Kambujadesa, Grand Abbot of Lopan
Sidar Yail, Chief Monk of the Golden Palace, Premier of the Earth
DIPLOMACY: Barat(ne), Orissa(a), Sarawak(ne)
Emaihe was outvoted in the Abbey Assembly. Sidar Yail who had been in Barat became the newest Premier. Vijaya and Tahoi became 8 Gpv cities. Hong Kong and Meilu found themselves at the 5 gold mark. Dagonapur became 6 Gpv. Barang is now 9 golds and Pa is at 12 golds.
THE MATARAM KINGDOM
Hurabhattangisanavarman, King Neptune of the Matay, Lord of Java, Chief of Celebes
DIPLOMACY: Lampung(ne)
Four cities expanded: Acehtong(3), Tanjung(2), Sapulut(2), and Zindalia(3). Pilbarra's new port was called Kitok. No one made any long distance trips across the Pacific Ocean. The Indian Ocean beckoned the sailors in a most disturbing way.
China and Japan Mercs: 20mei, 20mec, 10mea

THE SANLIN TUNGUS HORDE
Janron, Emperor of the North
DIPLOMACY: none
127,500 cavalry appeared behind Janron of Tuchir.
DA HUANG CHINESE EMPIRE
The All Powerful and Celestial Lord, Huang In-Do, Son of Heaven, Giver of Life, Protector of the Golden Path, Guardian of the Immortal Gate, Father of the Han, First Groundbreaker of the Bountiful Land, Wizard of the Nine Suns, Master of Matter, Agent Double O Soul, Gatherer of Clouds, Earth-Shaker, Sky-Smasher, Power of the Cosmic Mojo, Grand Dragon Extraordinaire, Most Likely to Succeed, Mystic Fiber of All Nature, Mister Know-It-All,Yellow Emperor of the Middle Kingdom, Ruler of the Entire World
DIPLOMACY: Yayik(ne)
Since that Japanese Navy was gone, the Huang mobilized their troops to take the war to Japan. Qian and 170,500 cavalry, 20 siege thunderfires, 67,500 elite knights and 150 elite dragonfires rode from Shangtu and forced tribute from Koguryo in 518 NH and Silla by 519. Tongon plus 416 warships (elite) with some various troops and 25 elite mortars sunk 38 Japanese warships then opened fire on the 120 foot walls of Tokyo. They had been softened up but remained intact at the end of 519 NH. On the 'Help the Rusi' front, much gold was sent down the Old Silk Road. Near the end of 519, a band of 105,500 Christians who had been under Ghaznavid protection entered and attacked Soghdia and then colonized it. This was a great disaster both for trade and for the Chinese global plan. Soghdia was needed to keep contact with Rusi and the string of regions beyond. Now isolated Uzbek, Arlan, Kulsary and Cim rebelled. A revolt in Bogazgol was suppressed. That plus Khwarzim and Yayik became isolated. Trade was lost with Russia and Armenia.
THE NAGATOBI SHOGUNATE
Tenno Yirutaga, 92nd Emperor of Nihon, Divine Son of Amaterasu
DIPLOMACY: none
Silla and Koguryo were lost to Chinese armies. A navy with mortars bombarded Tokyo. The Emperor Yirutuga was wounded by vagabonds. Eyini Shegi passed away from an illness in Saga.
THE KINGDOM OF PONAPE
Iniki IV, First Chosen of Nan Matol, King of Ponape , Keeper of the Mystery Blocks
DIPLOMACY: none
The Ponape leader wanted to downgrade his title to Duke.
THE NEW WORLD

South America Mercs: none

THE PARANA ASTRONOMERS
Adgalan, Chief Astronomer of the Parana
DIPLOMACY: none
The Chief handed out triple coupons for people grubbing for food.
THE SOLAR KINGDOM OF PERU
His Solar Highness, Valgol, King of Peru, Lord of the Earthen Lines
DIPLOMACY: Uru(a), Mapuche(ne)
Polis wasted more time in Mapuche. The Mapuche weren't willing to join a far away empire. Cuzco, Guayamchu and Mocheva grew to 4 Gpv. Pachacamac was now 5 Gpv.
North America Mercs: 10mc

THE ROANOKE RUSS
Rostov, Kynaz of the Roanoke Russ, Chief of Jamaica
DIPLOMACY: none
Young Rostov went to Calusa and hunted for deer. The alligators were way too dangerous. Porlov with some ships did some deep sea fishing. They harpooned a few whales in the Miskito Sea.
THE MAORI EMPIRE OF MEXICO
Acimaco IV, Ariki-a-Maaori, Beloved of Tangoroa, Quetzal Emperor of Mexico
DIPLOMACY: Guayami(ne)
Ma'a and his navy in Guayami were not getting anywhere for the region was too distant.
THE REQUELA KINGDOM
Chitaotin, King of the Requel, Keeper of the Tikal Codex
DIPLOMACY: Jonaz Pame(ne), Huastec(c), Tamaulipec(ne)
The Pogo horde was a serious problem in Jornada. They looted the region but then turned on themselves. The Zacatec Prince moved in to Jornada and collected a few of them under his banner. The rest (who survived the brawl) went back to the Great Prairie. Tamaulipec, being isolated, revolted.
THE GREAT POGO HORDE
The Pogo Horde lacked the funds to pay their troops. Mudawatta wanted to loot Jornada but that lacked the wealth to satify his riders. They turned on Mudawatta then on each other. When the bruhaha was over they were gone and were no longer a threat. The affiliated Chicagos quietly left Chiricaua to resume the pastorial life.
THE BENGKH KINGDOM OF SAN FONKISO
Okwang, King of Bengkalis, Guardian of the Straits
DIPLOMACY: Chumash(fa), Yurok(n), Tolowa(nt)
Okwang moved the capital to Yokuts. Bengkal grew to 5 Gpv.
THE TWILIGHT KWAKIUTL KINGDOM
Madilbe, Twilight King of the Kwakiutl
DIPLOMACY: none
Metla died. His brother Madilbe became the new Twilight King.

The MSI Rankings List
Brackets around name means you owe me money

Rk Country MSI ITV Player Phone # eMail Address
Gargantuan
1 Huang China 960 133 Hadei Solper 602-894-2109 jwhite@mail1.ade.state.az.us
2 Ghaznavid Sultanat 877 107 Patel Solper 602-242-4794
Titanic
3 Fatimid Caliphate 693 43 Grim Reaper, The arizona
4 Sian Kambujadesa 518 74 Scott Hagen 602-756-0104 scott.hagen@alliedsignal.com
5 Umma 434 85 James Kramer III 602-272-8046
6 Great Rheinland 429 56 Logan Vanderlinden 512-479-7692 loganv@concentric.net
7 Japanese Empire 349 42 Charles Hurst 503-653-1178 charlesh@teleport.com
8 Himrad 341 39 Heidi Zoltz 602-935-7006
9 Mataram 326 32 Barnacle Bill new mexico barnacle1@juno.com
10 Imam of Parq'rh 313 6 Brave Sir Jonathan 602-921-3716
11 Danish Empire 310 32 George Shrake 602-894-1384 shrake@imap1.asu.edu
12 Rosska Empire 308 38 Zena Solper arizona trillian@imap1.asu.edu
Huge
13 Armenia 237 22 Dennis Doubek 602-820-4313 doubek@soho.ios.com
14 Rokkid Andalus 153 13 Andre Kieren 410-203-0652 akieren@apexgrp.com
15 Mbundu 151 25 Darin Wagner-White 602-921-3716 lancesol@imap2.asu.edu
16 STIS 145 44 Craig Bartels 602-677-6886 axcrb@asuvm.inre.asu.edu
17 Solar Peru 136 19 Ted Kaminski 608-253-9231 (too faint to read)
18 Anatolikon 131 9 Mark Newman 602-878-9359
19 Maori Arikate 128 20 Tom Jordan washington
20 New Itiopya 116 4 Kerry Harrison 512-837-5553 kerry@io.com
21 Dalai Lama in Tibet 108 7 Ken McGee 360-687-0421 keng@pacifier.com
22 Ahmudid Baghdad 103 8 Achmed Solper 602-279-4008 jeffy@goodnet.com
Big
23 Culdi Council 93 2 John Carter virgina
24 Popular Italy 92 10 Warren Bruhn 503-623-1001
25 Ponape 92 21 Tom Hudspeth saudi arabia
26 Hurszia 90 7 Brian Smith arizona tug@primenet.com
27 Shmalid 87 10 [Ed Peterman] california
28 Requela 64 10 Dave Welches 602-498-0922pgr Ciboneyqqqq@aol.com
29 Parana Stargazers 59 8
30 Twilight Kwakiutl 56 7 open 4.25/turn
31 Hanseatic League 53 20 Ryan Kilkline arizona
32 Sanlin Horde 53 0 Darin Byrne arizona
Medium Sized
33 Aseb Abyssinia 47 4 open 4.00/turn
34 Bengkh 45 5 Mike Overstreet 602-969-8840 spiketo@aol.com
35 Roanoke Russ 43 8 Roger Truitt 209-584-3989 emo@kingsnet.com
36 Damxu Horde 42 0 open 4.00/turn
37 Basari Ha'besh 33 0 open 4.50/turn
38 SBM 21 7 Evan Fortney maryland

X Everything Else Thad Plate 602-952-8929 plate@inficad.com

Lords of the Earth @1997 Wanderer Games
contents of this newsletter is@1997 by Thaddeus W. Plate