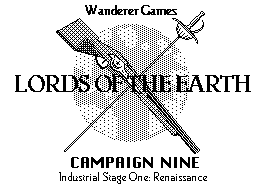 Turn One Hundred-Twenty-Two
1556 Anno Domini
Al Hajj 1016
516 Nian Huang
Zuni Reckoning 172

Next Turn's Orders Due by Monday, 17 March 1997

ANNOUNCEMENTS

Section [9.9.1] How Nomadic Nations Work: The first two sentences, "When out in ....vast via Horde Diplomacy." should be crossed out. Table 2.9 make a provision for nomadic societies to ignore troop support in steppe regions.
Port Fortresses: Just to clarify and clear up that confusion. Port Fortresses may not be used for conduit anchors. You can, however, use them for land trade if the port fortress is within your Trade Range of sea zones from your nearest port.

Lords of the Earth, Campaign 12H: I can now officially announce that I will be starting Lords of the Earth Campaign 12H this month. Like Lords 9 this game will be a historical start at 1000 AD. There will be about 100+ openings which will be assigned by lottery. I plan two week turnarounds for this game, and because of that I can only accept local (Phoenix area) or eMail players. I will release a Turn 0 newsfax on the Web later this month. If you are interested let me know electronically, in person or by phone. I thank you very much for your interest and support.
Lords Nine Unit Conversion
Each point of cavalry and infantry represents 500 fighting men. A warship or transport point = 1 ship with 500 men aboard each ship. A siege point = 5 sieges towers or catapults or 500 sappers. An artillery point = 5 field pieces each supported by 100 men. A field fort point = 1 tower manned by 500 men each. A wall point = 10 feet of ramparts and about 500 guards. A siege artillery point = 1 mortar (boulders included).
Lords Nine Turn Costs
OldWorld NewWorld
Per Turn $4.00base,25¢@BL $4.00base,25¢@BL
8x11 Mapset $3.00 $2.00
11x17 Mapset $6.00 $4.00
Color Map $3.00 $3.00
Warning: There will be a $5.00 charge for each returned check. I do not accept post-dated checks.

Contacting The Gamemaster
Send Your Orders to:
Lords 9H c/o Thad Plate
5333 East Thomas Road #215
Phoenix, AZ 85018
Call Me at:
(602) 952-8929. Even when those beeping sounds I may still be home, don't hang up.
Fax: (602) 952-8075
eMail: plate@inficad.com
I pick up turns every Monday at the Game Depot at 708 S. Forest Avenue in Tempe, AZ

Rules Used in Lords Nine
This campaign uses the 1994 5th Edition Rulebook and the 1994 Renaissance Expansion v1.4. Any other rules will be noted in this newsletter.

Ordering the Rulebooks: Send check or money order payable to:
Thomas Harlan
4858 East 2nd Street
Tucson, AZ 85711-1207.
The Prices are:
5th Edition Rulebook: $13.00
Renaissance Expansion: $4.00
This includes delivery cost, domestic USA. If you are overseas add $2.00

LORDS OF THE EARTH WEB PAGE
The Wanderer Games Home Page can be found at:
http: //gumby.spa.umn.edu/cscdir/lotedir

THE WANDERER GAMES
PLAY BY MAIL EMPIRE
Lords of the Earth Campaign One: Thomas Harlan, 4858 East 2nd Street, Tucson, AZ 85711-1207. (602)323-8570 7pm-10pm. eMail: tharlan@tophat.pima.gov. Turn 187
Lords Two: 13224 Highview Drive, Burnsville, MN 55337. (612) 890-5878. Turn 41. He's cranking again.
Lords Six: Kerry Harrison at kerry@io.com. This an eMail New World game starting at 900 AD. Turn 1 will start to be processed at 31 Jan. Still available: Nazca, Chichimec, Calchaqui
Lords Seven, The Dark Ages: Eddie Hartwell. 11517 23rd Ave, Burnsville, MN 55337. (612) 431-1858. Turn #10.
Lords Eight: Neil Stokes. 1674 Juliet Avenue, St.Paul, MN 55105. (612)698-9270 or nstokes@iceworld.org Turn #14. Set at around 300 BC. Open: Han(14), Numidia(20), Karnata(27), Buddha(30), Galatia(38), Iazygia(42).
PLATE GAMES:
Thad Plate, 5333 East Thomas Road #215, Phoenix, AZ 85018. (602)952-8929. Fax Number (602)952-8075. eMail: plate@inficad.com
Turns cost $4.00 + 25¢ per BL
Lords Nine: Turn 122. Open: Pijar, Basari, Han 4th, Layerug
Lords Ten: Turn 81. Open: Mapuche, Leopard, Ongut Horde
Lords Eleven: Turn 41. Open: Magadan, You, Yampi
Lords Twelve: 1000 AD historical start. Will start in March. I am now working on Turn #0. Yes, over 100 starts will be available.
Lords Seventeen: Bob Gurley 19502 Leaning Timbers. Humble, TX 77346. (713) 852-8866 or yuppyputze@aol.com. Turns are $3.00. Turn 5.
Lords Nineteen: James Chaney. 7316 North Black Canyon #3, Phoneix, AZ 85051. (602) 864-1175. Atacr@aol.com. Turn 3
Lords Twenty (eLords): This game is run strictly off the internet. Eddie Efsic at eddief6@ix.netcom.com. At turn 12

THE GLOBAL WAR (1532-?)
Fatimid, Atarikalimid Imam, Denmark, Dutec, Japan, Umma, Culdis, Popul Italy, Himrad, Mbundu, STIS, Basar
versus
Ghaznavid, Huang, Russia, Siam, Hurszia, Abyssinia, Armenia, Baghdad, Ronin
Neutral: Hansa, Anatolikon, Shmalid, Mataram, Tibet, Ponape, the entire New World

GLOBAL WAR TIMELINE
1500
Later Huang Diverts Silk Road to Russia.
1505
Benghazi Arabs complete their conquest of Italy.
Huang Chinese troops defeat Danes at Varshnask.
1507-1528
Druze begins their battles against Basra, Fatimids.
1508-9
SUDANESE UPRISING. Atarikalimi Sudanese razid Sanhaja, Andalusian shorelines. Daran Sudanese and Fatimid armies topple the Benghazi regime.
Russians capture Moldavia
1508
Afghan armies begin their conquest of Arabian Felix.
1510
Around this time, the Afghan and Chinese Empires sign an alliance treaty. The Asian Prosperity Alliance would later inlcude the Japanese, the Russians and the Cambodians.
1510's
Danes raid Baltic Sea coast
1512
Egyptian Spice Company (ESC) opens.
1513
Ivory-Spear founds the Wiyali of Lubnan at Brana.
Afghan armies complete their conquest of Arabian Felix.
1515
Fatimite Egypt convets to Atarikalami Islam
The Atarikalami High Priest, Khomeni XIV, calls a jihad against the Copts and Sunni Muslims.
Abyssinians attack Daran armies but are then repulsed near Cairo when they went after the Fatimites.
1516
Jihadin begin their assault against the Abyssinians.
1519
The East African Trading Coalition (STIS) begins its business.
1520's
Fatimite and Atarikalami navies raid Maghreb and Italian coasts.
Italian nationals revolt from the Arabs.
1524
Benghazi navy destroyed by Atarikalamis.
Under pressure from constant raids, the Sanhaja Sharifat collapses.
Late 1520's and early 1530's
Fatimite navies slave raid Coptic Red Sea coast.
1526
Local Depression is caused by a collapse of the Benghazi banking system.
1528
Druze destroyed by Fatimites. Palmyra's population is enslaved and moved to Darfur.
1531-4
Popular Uprising in Italy drives out the last of the Arabs.
1531
Danish Kaiser linked to the Atarikalami Muslims.
1532
Russians invade Pomerania, start of the GLOBAL WAR
1533
Daran and Fatimite armies conquer Nubia and enslave the whole region.
Lombard pirates sack two Danish cities on the British Isles.
1533-38
Chinese and Afghan armies conquer Sarkhagistan.
1535-38
Afghan armies conquer much of Basran Persia.
Hurszians attack the Po Valley while the Populs drive the Lombards from Italy.
STIS and Atarikalamis shut down ESC offices in Egypt. Spice Company is split into two: Maghreb (SBM) and Arabian (SBA).
1536
Russians defeat Dutch and occupy Holstein.
1536-38
Danish armies counterattack, liberating Pomerania and pacifying Prussia.
1537
Mbundu conquers Nia Nia from the Abyssinians.
1538
The Global War escalates to become truly global: Afghan armies clash with Fatimites near Mecca. Afghan navy patrols the Red Sea. Chinese armies reinforce Russia.
1539
Great unrest against the Afghan Empire in Persia and Arabia. Atarikalamite Yemen founded.
1540
Danish counterattack destroyed, Russian occupy entire Baltic Coast and isolate Nydania.
Armenia attacks Lebanon.
1542
Chinese navy sacks Parq'rh.
MILLENIUM JIHAD. Atarikalimites come out in force to fight the Chinese and Afghans.
Afghan Empire creates Baghdad satrapy.
1544
Fatimite armies defeat Afghan and Chinese armies in Jordan (Azraq Ruins)
Ronin Cossacks conquer Nydania.
1545
Dutch armies defeat Russians at Kassubia.
Danish lands troops in Ilmen and begin bombardment of Novgorod.
Popul force chase the Hurszians from Italy.
1546
Culdi Church calls a Crusade against the Russians.
Chinese destroy the Sarkhagi remnant kingdom at Kohul.
1547
Danes defeat Chinese & Russian army at Ilmen. Novgorod counter-bombards Danish battery.
China and Japan fall out. Japan switch sides.
1548
Andalus enters war attacking Holland at Languedoc along with the independent Chinese navy.
Yoruban forces attack Andalus and capture Seville. The Andalus fall into civil war.
Mbundu defeats southern Abyssinian army and advance north. The Darans advance in the north of Abyssinia.
Cambodian garrison at Yemen wiped out by Fatimite Jihad.
Chinese conquer Japanese possession on the continent and keep the Japanese navy from unloading troops at Loyang.
1549
Chagatai attack Danish at Ilmen and are destroyed.
Around this time, the Fatimite Jihad forces occupy Afghan Arabia.
1550
Atarikalamid forces (the Basari) are repulsed at Abbis.
Arabian Spice Company (SBA) is destroyed by the Fatimites at Al Hadd.
1551
Abyssinian King Zanditu II assassinated
After a civil war, the Andalus make peace with the Atarikalimites.
About this time the Danish Crusade attack the Baltic cities. Culdi and Orthodox Christianity are polarized.
A cease-fire is called between the Afghans and their Baghdad colony and the Fatimids.
1552
Rogue Andal army destroyed by Italians and Dutch.
China defeats Japanese navy at Eching. Japanese army driven from Manchuria.
1554
Danes quit passive siege; their assault against Novgorod fails.
Huang Western Navy destroyed by the Atarikalimite fleet.
1555
Atarikalimite fleet raids the southern coast of Russia.
Russian and Chinese armies defeat Danes at Ilmen (Baketch) and clears them out. Ronin are wiped out.
Abyssinians evacuate the Amharan Plateau. They flee to the Afghan port of Mansura.
Chinese sinks the entire Japanese navy near Sarchou.

EUROPA

Western Europe Mercs: 20mc, 20mi, 30mw

DAS STORDANSK KEISERDOMME
Kristan, Kaiser of All Danes, Tsar of the Russias, Smiter of Winic Daemon Hordes, Defender of the Faith, Master of the North, Emperor of the Western Romans
DIPLOMACY: none
The Empire brewed up many bombs for use against Novgorod. These plus some infantry reinforcements headed over to Ilmen to get the job done. Despite the fact that the Russian country was now protected by ex-Japanese ronin and Dutch expatriots, a force of 20,500 cavalry, 38,500 infantry and 45 cannons (There had been desertions from this group) ventured forth to Kirivich. They ran into 60,000 ronin samurai, 31,000 Dutch knights, 75 elite trebuchets, 50 elite artillery, 10 elite mortars and 40 regular guns. The new Russian defenders wailed upon the Danes mercilessly and their captain Leif Romersson became a prisoner of war. The Ex-Jap-Dut army only lost 6500 while Leif's army was wiped out. Bishop Angus Waller arrived at Ilmen with the reinforcements and with Stenkil Haraldsen (who avoided an assassination) attempted to assault Novgorod. Things looked grim for the Russians. The 150,000 cavalry, 38,000 reinforcing infantry, 15,000 engineers and pioneers, 21,000 crusader horsemen, 325 field artillery, 101 siege cannons plus 300 tons of explosives rushed upon the 150 foot walls with 46 mortars. After two days of pure agony, Stenkil Haraldsen died in battle and Angus Waller was wounded. The assault was called off. Novgorod stood defiant yet again with 100 feet left on the ramparts and 6 mortars left functional. The Danish losses weren't that great. Waller figured he could give it another go once he was all right. The Russians, however, did not sleep. With two armies, they regained their lost lands and in September 1555, a great army attacked the Danish foothold. The attackers included the Dutch and Ronin contingents (The Ronin were down to 53,500) plus 180,000 Dawonc cavalry, 22,500 Han elite soldiers, 22,500 han elite engineers, 45 elite dragonfires and 22 elite thunderfires and the 6 Russian mortars in Novgorod. The injured Angus Waller had at his disposal 100 field forts, 150,000 Danish knights, 20,000 horse crusaders, 300 cannons, 10,000 pioneers, 70 siege artillery and 38,000 linemen. At the field of Baketch, both sides stalemated but the pro-Russian side gained the addition of 47,500 horsemen and 20,000 freelancers. Now the Russian side had numbers which broke through the Danish lines in weight. The Danes still had the field forts but had sustained great losses. Almost outnumbered 2 to 1, the Danish fortifications fell to the various Russian and Chinese columns. Angus Waller saw fit to escape with the fleet and some survivors to Saarema.
The Empire had to be content with success in Engsland and Holstein. Sven Olaffson plus Deacon Jones and a whole lot of ships plus some crusaders landed on Northumbria, pacified the rebels and militarily converted them. Jones then sword-pointed Anglia to the true Christian faith. Sven made certain of Lancaster's loyalty to the Culdi creeds by force. The chancellor Larry Glide with 20,000 mercenaries, 10,000 dragoons and 50 mounted guns liberated Holstein and its newly expanded city Lubeck. In Munster, the Celtic Sea port of Lionholm was rebuilt. It became the main point of trade with the Yorubans. Biscuits were sent to them. Holstein cultivated.

THE REFORMED CULDI COUNCIL
Edwin, Scion of St. Camber, Head Dom of the Culdi Council
CONSECRATION: Colchester(ab), Gormhavn(mn)
The Russian counter invasion meant the loss of the Ilmen abbey.

THE HANSEATIC LEAGUE
Hugo Charm, Hauptsächlich Kaufmann von Hansen
CAPITALIZATION: Kobenhavn(cc), Koln(cc), Utrecht(cc)
Hugo put in some work to make a lot more geld. He sent Caster Burend to Saracen lands to drum up some contacts. He found himself in STIS lands when he wanted to set up a factor in Sudoua.

DAS KONENKRISK DER GRUSRHEIN
Willhelm V, King of Greater Rheinland, Lord of Batavia, Stadhouder of the Netherlands
DIPLOMACY: none
The Dutch stood fast and protected themselves from the chaos.

THE MALIKAT AL ANDALUS - Rokkid Faction
Walid III, Malik al Andalus
DIPLOMACY: Catalonia(hs)
Old Abbas checked up on Catalonia. They were still Christian - damn! He departed the region in bad terms.
DA HUANG WESTERN NAVY
After suffering some terrorist bombings and fires, the Navy was attacked and was destroyed by Atarikalimites in 1554. Bo Ro had no other place to run to but the bottom of the Black Sea murk.

THE POPULAR REPUBLIC OF ITALY
Francesco Tornabuoni, President of the People's Republican Society of Italia
DIPLOMACY: Sardinia(c)
The Republic was left to its own. Baldini's suggestions to the Sardinian Duke were listened to. Igor Japroy, having been fired by the Hursians, joined the republic as a consultant.
Eastern Europe Mercs: 40mc, 10mi, 10ma

THE KINGDOM OF HURSZIA
Vlad II, King of Hurszia, Grand Zhupan of Pethion
DIPLOMACY: Temesvar(ne), Ludgorie(ne), Styria(ne), Bosnia(ne)
Vlad didn't have a bride yet so he went to Temesvar to score some chicks. At the castle, he found a hot gypsy gal. Sure, she was a pagan, but he didn't care. A couple years later, she gave birth to twin daughters.
THE PIJAR EXILE COMPANY
Sho-Ri, Former Khmer General
DIPLOMACY: none
The Pijar Orientals (15,000 elite cavalry) looted Meissen and then Lausatia.
THE HOLY ROMAN EMPIRE OF THE RUSSIAS
Sonya, Czarina of Great Russia, Empress of the East
DIPLOMACY: Kirivich(t), Veposkava(nt), Yaroslav(nt), Dobruja(f)
The Empire had to rely on foreigners to do the dirty work. The Ronin and the ex-Dutch took the lead in sweeping the grubs from the last haven of dinosaurs. They spotted and defeated a small Danish army in Kirivich and then waited a few weeks in May for Marshal Deyi's 4th Han army to catch up. The big Chinese battalion suffered some problems on the wya. They got caught in a deliberately set grassfire which decimated their numbers. After Latvia and Estonia were liberated and lathered with soap, the allied army attacked the entrenched Danish garrison in Ilmen near the hill of Baketch. Both sides were evenly matched. The Russian allies had leadership and the Danes had them defenses. To tilt the balance on Russia's side was Gurin Sviatoski's national Russian force of 47,500 dragoons and 20,000 freelancers. They drove out the Danish garrison from Suzdal, and restored the confidence of Veposkava and Yaroslav. Once outnumbered, the Danes fled the battle scene. It was safe for the Iguanadon and its chicks to come out. The surviving forces fell out with each other. The Chinese force wanted to do things their own way so they did. The great treasure that the Afghan had sent to Ilmen long ago was delivered to its intended designation - Ephesus. Off the coast of Thrace the Huang West Navy was destroyed. The Imamist Navy (114 slave galleys) then raided and kidnapped children from Thrace and Dobruja.
THE FREE COMPANY OF THE RISING SUN
Tsubigea Tsutsu and his entire army were lost in the battle of Baketch. All the Ronin regions (Meissen, Goryn, Sardinia, Silesia, Sorbia and Volhynia) became neutral bobs.
THE HAN FOURTH ARMY
De Yi, Marshal Commander of the 4th Army, Warlord of the Far West Wastes
DIPLOMACY: none
De Yi and his 22,500 elite infantry, 22,500 elite engineers, 45 elite artillery and 22 elite mortars have become mercenary. They're sitting by their own campfire at Ilmen.
THE ROMAN KINGDOM OF ANATOLIKON
Herakles, King of Rumania
DIPLOMACY: Macedon(fa)
The Greeks used all that money to build steam baths, public cisterns and fancy gardens in Athens and Crete. Ephesus grew to 5 Gpv. Cronion and Demades scouted Cyprus once more and determined the place to be Fatimite controlled. They took out their frustrations on the Kyklades which was military converted to Orthodox Christian. The hard-luck Hurszia, the source of all socks, were given a few bucks.
THE KINGDOM OF ARMENIA
Nisibis, Shah of Armenia
DIPLOMACY: Kuban(ne), Edessa(c)
The Armenians let Raqqah go to avoid a confrontation with the cannibalistic Atarikalimites. They did work Edessa over. Abydos grew to 3 Gpv.

AFRICA

Al Mahgrab Mercs: 10mi

AS SHMALID SULTANAT AS SIQILLI
Fasher Hadi, Sultan of the North, Ruler of As Siqilli
DIPLOMACY: none
Fasher was injured by another assassin. His son Achmed was unharmed. Achmed took the lead in settling the populace by setting up many coastal fleets along the African Coast. The Umma Jihad of 35,000 cavalry, 115,000 infantry and 250 catapults again intruded on Shmalid soil trampling on every region from Algeria to As Sidrah.
AS SHIRKI AL BAHARAT AL MAGHREB (Moorish Spice Company)
Asad, Director of the SBM
DIPLOMACY: none
The Spice Lords financed a coastal fleet in New Jerusalem. Their competition are dreadfully close by.

West Africa Mercs: 20mi, 20mc, 10ma

THE UMMA OF ISLAM (YORUBA)
Rucat, Sword of Islam
DIPLOMACY: Galam(a), Boure(ea), Niete(f), Jenne(t)
The government financed and oversaw the construction of factor facilities for the STIS in their country - only two were viable for operation: Volta and Saf Oujda. The entire country then advanced their technology to the level of the Daurans. Jiko Taungi took the Jihad to Egypt using the Shmalid Road system. He returned back home alone. Many cities expanded: Bouma(10), Keni-Ebe(2), Parq'rh(3), Ilorin(4), Baughazwil(5), and Volta(10). The Mbundu, Imam and the STIS all sent some gold nuggets. Breadballs was imported from Denmark and Egypt.
THE HIMRAD SULTANAT OF DAURA
Azucentia II, Sultana of Ngazargumu, Magajiya of Daura
DIPLOMACY:
27,500 cavalry and 115 artillery enslaved the Nubian Copts while another 50,000 cavalry, 120 artillery and 500 siege engineers rounded up the population of Atbara. Many of these were used to construct a road from Kordofan's ruined city to Miayar. We had some cities growing here: Miayar(8), Chirop'tera(7) and Mzunga Arudi(4). Efforts to subsidize the trade company did not work out in Ph'ntazi or Nyficat.
THE IMAMATE
Ayatollah Khomeni XV, Protector of the True Children of Islam, Guardian of the Shining Path, Imam
CONSECRATION: Bouma(ca), Volta(ca)
Sagremor (the Unruly) gathered 140 galleys and moved north to the Arrus coastline where the evil Huang Navy had taken shelter. Using fireworks and steel balls, the entire Chinese fleet of 64 were sunk. The Holy Shining Path Fleet raided and slaved the coast of Thrace and Dobruja beofre returning to its Nile harbor. Yxjsh actually succeeded in building a cartel city for the STIS at Ilorin.
THE OVI PANTRAPY OF MBUNDU
Okonkwo II, Pantrap of Mbundu, Lord of the Fell Gates of Khatovar, The Last True Afro-Pagan on Earth
DIPLOMACY: none
The Mbundu held on to their added territory. At Ankolye the Lake port of Kampala was built. Kakundakari grew to 5 Gpv.
East Africa Mercs: 40mi, 20mc

THE BASARI EMIRAT AL HA'BESH
Yusufri Shah ibn Alimusa al Basar,Amir al Ha'besh
DIPLOMACY: none
The Basari milled around Adulis being rather useless. Their Fatimid army was repatriated by Princess Ruaia.

THE KINGDOM OF ABYSSINIA (ITIOPYA)
Daoraned, King of Abyssinia, Negus Negesti, Anointed by Jah, Lion of Judah
DIPLOMACY: none
The Atarikalimite threat was enough to convince the government that they must leave their beloved plateau homeland. A nasty Black Muslim army even came into Amhara itself scaring the subjects. They sacked Abbis and looted the region. They then did the same in Baraka and Asmara. Another force of 30,000 or so plundered Adowa and Gondor. In Kefa, these 'Atarikalimids' were exposed as Abyssinians who were ordered to savage their own people. The Kefa uprose and then truth got out and the cover-up stories leaked all around. Adowa, Amhara, Baraka, Galla, Loriu, Sidamo and Harar rebelled. The rest of the country was uncertain whether the Lion was truly responsible for these horrible raids and the atrocities at Nubia and Atbara (they had been enslaved). Word was that these 70,000 raiders and the entire Abyssinian government were loaded on Ghaznavid ships and were taken to Sind. Only two region are still loyal to the Lion: Zeila and Aksum.
SHIRKI AT TIJAR AL IFRIKI AS SHARK (STIS)
Kalif-Sied, Chief Executive of the East African Trading Company
CAPITALIZATION: Darfur(mf), Merrakesh(mf), Akan(mf), Zufar(mf), Alexandria(cc), Cairo(bo), Ilorin(cc), Saf Oujda(mf), Brana(mf), Lagos(mf), Volta(mf)
Ibn Hanna was such a blithering idiot when it came to getting things done - it was ggood for the Coalition that he died. Kalif-Sied knew his stuff though and set up a factor in Zufar. Many true Muslim nations chipped in for the welfare of the STIS.
THE FATIMID CALIPHAT AL QAHIRA
Inulla az Zaur, Malika al-Arabiya, Lady Caliph of the Ba'athist Muslims, Keeper of the Martian Secrets
DIPLOMACY: Aleppo(t)
The Caliphat turned on their former vassals the Wiyali for technically they had been a state of rebellion (they also snored too loudly). Two armies branched out to tackle these pipsqueaks. A third army dealt with the Sunni bastards in Bostra. Abd Suma and Biratn plus 133,000 cavalry, 6500 elite cavalry, 150 arties, 6 siege arties, 46,500 siege engineers and 50,000 infantry went up against 33,000 Lubnan Jihadin in Lebanon. The Jihadin didn't relish the thought of fighting their brothers and went away. The region was easily subdued and the troops went to work on Brana's 120 foot tall walls. This siege would have been rather bloody but the defending general lost heart after 4 months and surrendered. The Lubnan government fell and Wilayi was no more. The second army which consisted of Jihadin was told to attack a Black Muslim region, Shamiyah. They got real upset, destroyed the artillery units and ripped their commander, Dulado, to shreds before they scattered. Half the remaining Millenium Jihadin feeling that their cause had fallen to internal bickering went back home. The Jihadin army that dealt with Bostra had enough to do the job. Bostra was completed enslaved. Abd Suma and Biratn, after their successful attack on Brana, moved on to Aleppo where the elite their were accomodating to Caliphal demands. Princess Ruaia went south to Suakin which was occupied easily. Then the city of Giyon plus all of Suakin were militarily converted to the Shining Path.

ASIA

Southwest Asia Mercs: 20mi, 20mc, 20mw

AL ARABIYAH AL LUBNAN
Twice the Wiyali's enemies tried to kidnap young Ikhwan but that didn't matter. The young Sultan plus all of Lubnan fell to the armies of the Fatimid. Only Shamiyah was left and they are neutral.
THE AHMUDID EMIRAT OF BAGHDAD
Goudfari ibn Shluki al Ahmud, 'the Grinning Totem', Emir of Baghdad, King of D'oh
DIPLOMACY: Zagros(fa)
Hahmar was colonized with friendly inhabitants. Baghdad grew to 2 Gpv.
THE LAYERUG KAZAKH HORDE
Damxü, Ataman of the Layerug Host
DIPLOMACY: none
100,000 men and their mounts have gotten the itch over in Turgay.
THE FARUKAS SULTANATE OF GHAZNAVID
The Hearty and Huge Hotspur, The Heroic Hematitic and Humungous Hackalope, Most Honored and Holographic Highness, Tughril III, Hkan of the Hindus, Hsultan of Havestan, Hcieftain of the Hnutter Hbutters
DIPLOMACY: Tabaristan(ea), Jowzjanan(ne)
Lanhim and the Learned took the great navy to the Red Sea and hung out at Aksum. In time the Abyssinian government and army came on board. Tughril took these poor Christian types back to Sind where they congested Mansura's wharflands with their mellow rasta music. Musamasad died in AH 1014. His son Tughril III became Hsultan. In Chitor the river port of Jodhabad was started. Then there's that city growth: Bukhara(6), Barisal(2), Vijayanagur(2), Indea(3), Gonbad(10), Oruzgan(2) and Nishapur(8).
THE ENLIGHTENED KINGDOM OF TIBET
Sujisain, 10th Host of the Oceanic Buddha, Queen of the Mystic Arts, Incarnation of Pan-Dan Lha-Mo
DIPLOMACY: none
The lamas started concentrating on this huge crystal. In days it began to glow...
Funan Mercs: 20mi, 20mw

THE SIAN KAMBUJADESA
Indravarman II, God-Emperor of the Sian Kambujadesa, Grand Abbot of Lopan
Emaihe, Chief Monk of the Golden Palace, Premier of the Earth
DIPLOMACY: none
Satitok Tak died in NH 514. The Golden Gathering tapped the saffron robes of the wonderkind, Emaihe, to be the new Premier and cook. Orissa became Therevada Buddhist. Cities: Pagan(8), Angkor(15), Phuket(5), Rangoon(11), Barang(8) and Pa(11) report a population boom.
THE MATARAM KINGDOM
Hurabhattangisanavarman, King Neptune of the Matay, Lord of Java, Chief of Celebes
DIPLOMACY: none
The Matay rulership had a generational change. Baviksangaragunavarman died of frostbite. Atjeh became a tundra, no, a swamp, no, a tar pit, no, uh cultivated?
China and Japan Mercs: 10mei, 20mec

DA HUANG CHINESE EMPIRE
The All Powerful and Celestial Lord, Huang In-Do, Son of Heaven, Giver of Life, Protector of the Golden Path, Guardian of the Immortal Gate, Father of the Han, First Groundbreaker of the Bountiful Land, Wizard of the Nine Suns, Master of Matter, Agent Double O Soul, Gatherer of Clouds, Earth-Shaker, Sky-Smasher, Power of the Cosmic Mojo, Grand Dragon Extraordinaire, Most Likely to Succeed, Mystic Fiber of All Nature, Mister Know-It-All,Yellow Emperor of the Middle Kingdom, Ruler of the Entire World
DIPLOMACY: none
While reinforcements and supplies went 'vanning down the Old Silk Road to rescue Russia, the Yellow Empire kept a defensive line to the east. Ao-Zhao was posted to keep that crazy Eyini Shegi outside. Something did happen in 515 NH. About 100,000 riders attacked Shangtu. Ao-Zhao and his 97,500 elite horse whackers and 150 elite dragon belchers was right on top of it. These invaders weren't Japanese - they were Hoarse Barbarians (This was due to a lack of battle cry). These nomads were easily defeated - and they had nothing to say for themselves. About 30,000 were lost in the battle. A few months later, the Japanese navy struck! The 355 elite galleons and 25 regular frigates destroyed the merchant fleet at Sarchou by the Bo Hai. That was brought to the attention of Tongan and his command of 385 elite war-barges with 250 rods of dragonfire on board. With the firepower and better leadership, the Sea Barbarians were shattered. All their ships were disable, sunk or burnt. The Chinese only lost 19 ships mostly from bad primer. A sizable cavalry patrol shoved the serene tenants of Chan Buddhism into the brains of all the folks in Yayik. Kulsary became cultivated.

THE OINUT HORDE FEDERATION
Sechan led his lost host through the northern passes of the Khingan and struck eventually Shangtu. They hadn't the time to loot anything because of a reacting Chinese army (They were just down the road). A quarter of the Oinuts escaped into the friendly lands of the Tungus Samlin horde. The Samlin took this as an opportuntiy to exact revenge for some unknown slight some 87 years ago and destroyed the Oinuts forever.
THE NAGATOBI SHOGUNATE
Tenno Yirutaga, 92nd Emperor of Nihon, Divine Son of Amaterasu
DIPLOMACY: none
The great fleet coasted by Sikhote and brought Eyini Shegi and his haggard army on board. They were taken home to warm baths and massage girls in Shimane. After that the ships dared the Chinese off the coast of the Bandao. Admiral Tabinaki Hsu and all his men and the craft they were on became flotsom debris on the Bo Hai.
THE KINGDOM OF PONAPE
Iniki IV, First Chosen of Nan Matol, King of Ponape , Keeper of the Mystery Blocks
DIPLOMACY: none
Agana grew to 3 Gpv. Hua Patah is now 2 Gpv. The late Iniki's oldest surviving son was another Iniki.
THE NEW WORLD

South America Mercs: none

THE PARANA ASTRONOMERS
Adgalan, Chief Astronomer of the Parana
DIPLOMACY: Itacare(a), Gueren(ea), Huarpe(ne)
The beach town of Sandy was an important addtion to the landscape of Itacare. As always, the city builders got a little bonus.
THE SOLAR KINGDOM OF PERU
His Solar Highness, Valgol, King of Peru, Lord of the Earthen Lines
DIPLOMACY: Mapuche(ne), Uru(fa)
Polis went to Mapuche to see if there was interest down there. The Araucanians weren't really interested - they were too far away. City growth: Cuzco(3), Pachacamac(4), Guayamchu(3).
North America Mercs: 10mc

THE ROANOKE RUSS
Molotov, Kynaz of the Roanoke Russ, Chief of Jamaica
DIPLOMACY: none
Ciboney's Pacu got its finishing touches. Eremenko died.
THE MAORI EMPIRE OF MEXICO
Acimaco IV, Ariki-a-Maaori, Beloved of Tangoroa, Quetzal Emperor of Mexico
DIPLOMACY: Guayami(ne)
Ma'a's trip to Guayami was a bust. They were isolated and distant. A divine road was built from Tarascan through the capital in Texcoco to Bilafiza (Totonac). Cities expand: Teja(15), Bilafiza(4), Motul(5), Maja(4) and Tropical(5).
THE REQUELA KINGDOM
Chitaotin, King of the Requel, Keeper of the Tikal Codex
DIPLOMACY: Zacatec(f), Jonaz Pame(c), Tamaulipec(t), Huastec(hs)
Mogollon was blessed with the city of Meoqui. The Zacatec chief married the Princess Acho in Culiacan. Ano insulted the Huastecs so bad that he was told to leave and never come back. When 132,000 Pogos and Chicagos entered Jornada their leader was injured because a 'ghost-man' pushed him off his horse. Jornada got very nervous with all these mounted enemies in their midst. The Chicagos moved on to Chiricaua. Chitaotin wonders if they can be stopped.

THE GREAT POGO HORDE
Mudawatta, Chief of the Ogo-Pogo, Protector of The Buffalo
DIPLOMACY: none
The Pogo migrated out of Quapaw and let the slaves go ( They regained their old homes in Quapaw). The horde rode over to Jornada after crossing some dry parched desert. They had planned to raid the Jornada wilderness but a Requelan assassin hurt Mudawatta so they stopped. The troops are without provisions in a hostile land. The Chicagos advanced to Chiricaua.
THE BENGKH KINGDOM OF SAN FONKISO
Okwang, King of Bengkalis, Guardian of the Straits
DIPLOMACY: Yokuts(f)
The Bengkh had a pretty good turn. Kongmai died. Young Okwang was elevated to the chief's hut.
THE TWILIGHT KWAKIUTL KINGDOM
Metla, Twilight King of the Kwakiutl
DIPLOMACY: none
As before.

The MSI Rankings List
Brackets around name means you owe me money

Rk Country MSI ITV Player Phone # eMail Address
Gargantuan
1 Ghaznavid Sultanat 892 104 Patel Solper 602-242-4794
2 Huang China 844 134 [Jonathan White] 602-894-2109 jwhite@mail1.ade.state.az.us
Titanic
3 Fatimid Caliphate 563 43 David Vasiloff arizona
4 Sian Kambujadesa 511 70
5 Great Rheinland 422 56 [Logan Vanderlinden] 512-479-7692
6 Umma 404 83 James Kramer III 602-272-8046
7 Japanese Empire 380 46 John Smith arizona
8 Himrad 318 38 Heidi Zoltz 602-935-7006
9 Mataram 304 29 Barnacle Bill new mexico barnacle1@juno.com
10 Danish Empire 294 27 George Shrake 602-894-1384 shrake@imap1.asu.edu
11 Rosska Empire 286 38 Jamie White arizona trillian@imap1.asu.edu
12 Imam of Parq'rh 276 6 Earl Solper 602-921-3716
Huge
13 Armenia 205 23 Dennis Doubek
14 Mbundu 149 25 [Lance Solper] 602-921-3716 lancesol@imap2.asu.edu
15 Rokkid Andalus 148 13 Andre Kieren 410-203-0652 akieren@apexgrp.com
16 Itiopya 140 4 Kerry Harrison 512-837-5553 kerry@io.com
17 Anatolikon 135 11 Mark Newman 602-878-9359
18 STIS 130 37 Craig Bartels 602-677-6886 axcrb@asuvm.inre.asu.edu
19 Maori Arikate 126 20 Tom Jordan washington
20 Solar Peru 124 17 Ted Kaminski 608-253-9231
21 Dalai Lama in Tibet 107 7 Ken McGee 360-687-0421 keng@pacifier.com
22 Ahmudid Baghdad 100 8 Achmed Solper 602-279-4008 jeffy@goodnet.com
Big
23 Popular Italy 92 10 Warren Bruhn 503-623-1001
24 Ponape 91 21 Tom Hudspeth saudi arabia
25 Shmalid 91 10 Ed Peterman california
26 Culdi Council 86 2 John Carter virgina
27 Hurszia 84 7 Brian Smith arizona tug@primenet.com
28 Requela 61 10 Dave Welches 602-498-0922pgr Ciboneyqqqq@aol.com
29 Parana Stargazers 59 8
30 Twilight Kwakiutl 51 7 [Timar Clark] arizona
Medium Sized
31 Hanseatic League 48 20 Ryan Kilkline arizona
32 Bengkh 46 5 Mike Overstreet 602-969-8840 spiketo@aol.com
33 Roanoke Russ 46 8 Roger Truitt 209-584-3989 emo@kingsnet.com
34 Layerug 42 0 open 4.00/turn
35 Great Pogo 39 0 Charles Hurst 503-653-1178 charlesh@teleport.com
36 Han 4th Army 38 0 open 4.00/turn
37 Basari Ha'besh 35 0 open 4.50/turn
38 SBM 16 7 [Evan Fortney] maryland
39 Pijar Exiles 10 0 open 4.00/turn

X Everything Else Thad Plate 602-952-8929 plate@inficad.com

Lords of the Earth @1997 Wanderer Games
contents of this newsletter is@1997 by Thaddeus W. Plate